Are you wondering if you're pregnant, but your current situation does not permit you to access or use a home pregnancy test or consult an OB-GYN? How can you confirm your pregnancy without using one of the options mentioned above?
There's no need to panic because there are some early signs of pregnancy that you can check to know whether you are pregnant or not. Using these common pregnancy signs and symptoms, several online pregnancy tests and quizzes have been created, which you can use to confirm your suspicions.
This article will discuss online pregnancy tests and how to do them. It will also examine several mobile apps that offer online pregnancy tests, their features, and how to download and install them. Read on below.
Explaining Online Pregnancy Tests
Where to Find Online Pregnancy Tests
Accuracy of Online Pregnancy Tests
Test Questions Concerning Early Pregnancy Symptoms
Test Questions Related to Sexual Activity and Birth Control
Mobile Apps for Online Pregnancy Tests
Pregnancy Test Quiz for iOS Users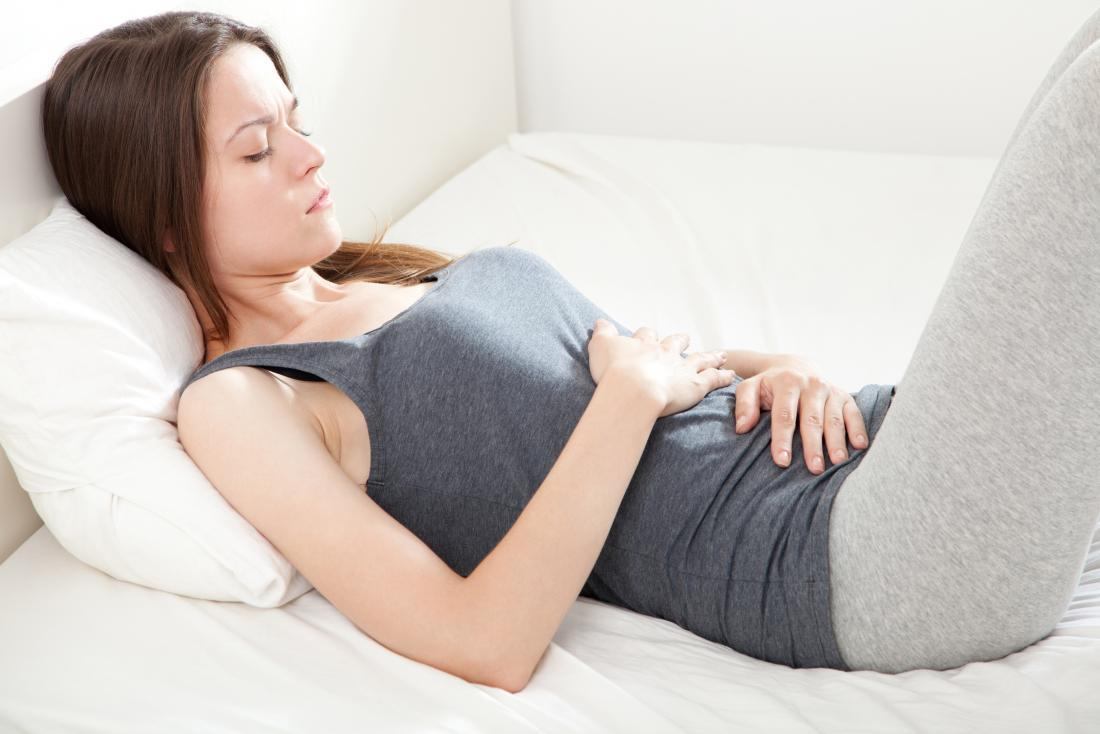 Explaining Online Pregnancy Tests
Ideally, you should get either a urine test or a blood test in order to determine whether you are pregnant. Urine tests are the most commonly taken as they can be done even at home.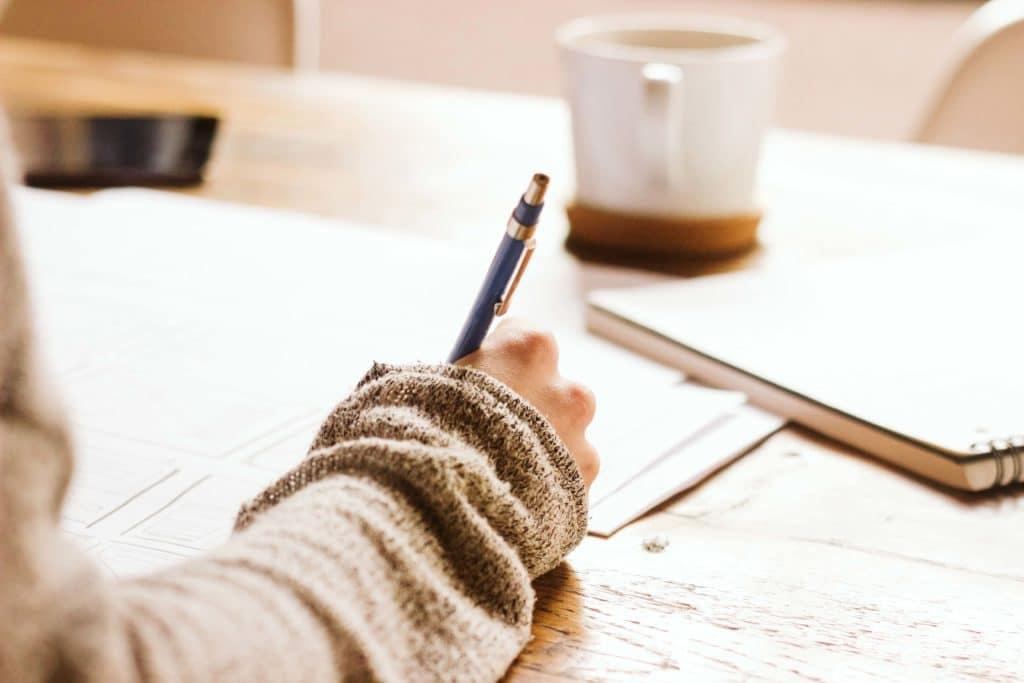 However, in cases where you don't have access to a home pregnancy test kit or are trying to save money by not taking a test too early, you may opt to take an online pregnancy test or quiz.
An online pregnancy test makes use of the most common early pregnancy signs and symptoms, compiles them, and transforms them into question form so that women can self-check for pregnancy.
Testing for Early Pregnancy Symptoms
Most early pregnancy symptoms are triggered by the increase of pregnancy hormones in a woman's body. These hormones are called human chorionic gonadotropin or hCG.
The placenta produces hCG once fertilization happens and the fertilized egg attaches itself to the uterine wall, the process of which is called implantation. The level of hCG in the system is what pregnancy test kits measure.
Once hCG is present in the system, a woman will exhibit several symptoms, including nausea, vomiting, implantation cramping, and spotting, and breast tenderness.
Where to Find Online Pregnancy Tests
As the name suggests, there are a lot of online pregnancy tests that you can find on the internet. Simply searching for the term "online pregnancy test" will give you tons of search results.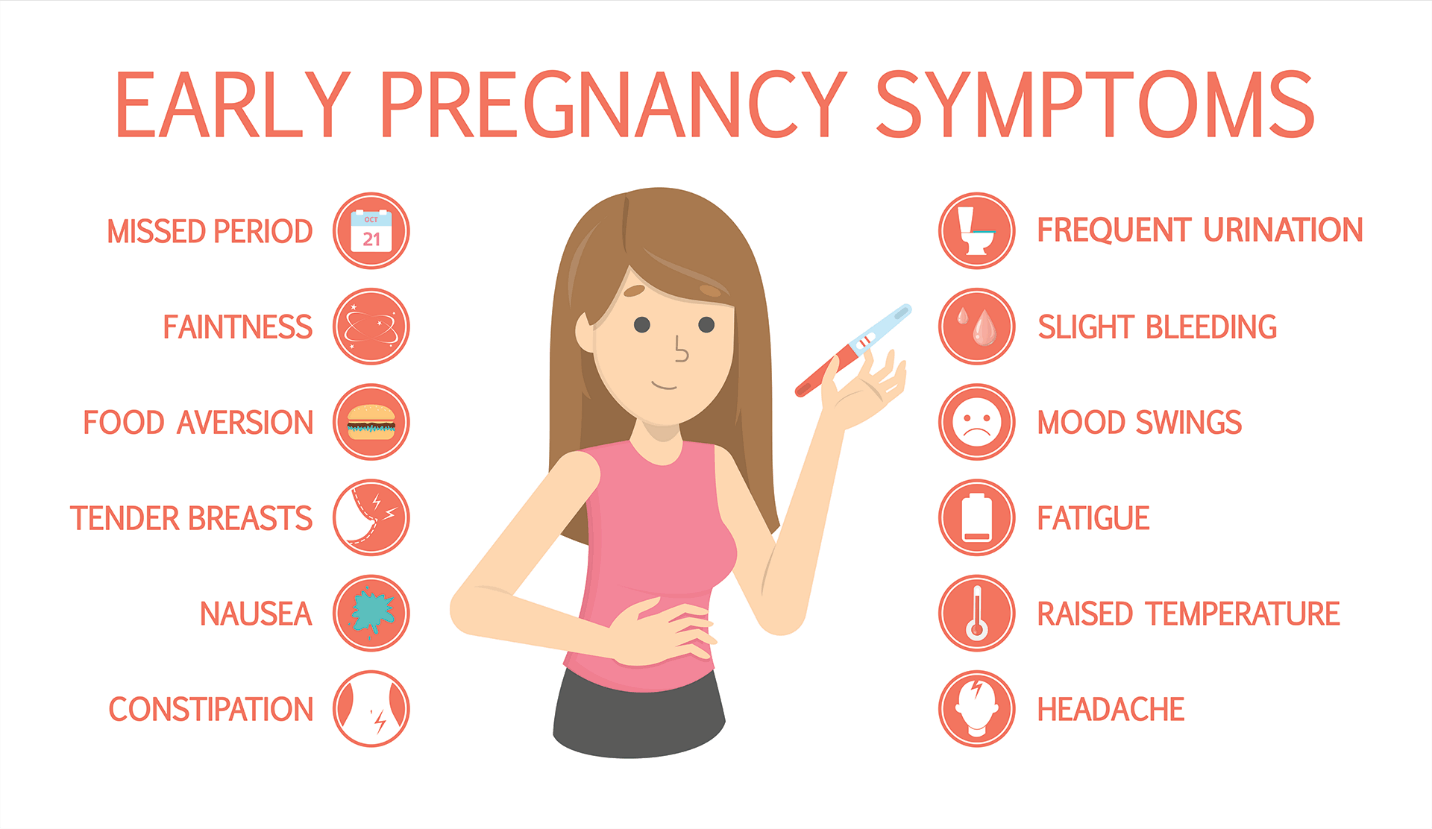 These tests or quizzes can oftentimes be found on medical websites, blogs on women's health, or pages dedicated to families and their health.
There are also some mobile apps that offer online pregnancy questionnaires, and some were even wholly designed to serve as online pregnancy tests and guides.
Advantages of Taking Online Pregnancy Tests
Most of the online pregnancy tests and apps that you will find on the internet are free.
Because they are free, you can take them as many times as you want, and because they are online, you can do this from the comfort of your home or anywhere you may be.
Also, most online pregnancy tests do not require any form of registration, which means your personal information would not be compromised in any way.
Accuracy of Online Pregnancy Tests
Online pregnancy tests are comprised of questions based on early pregnancy symptoms. These tests are often designed by gynecologists or are based on questions asked by them during a woman's first prenatal checkup.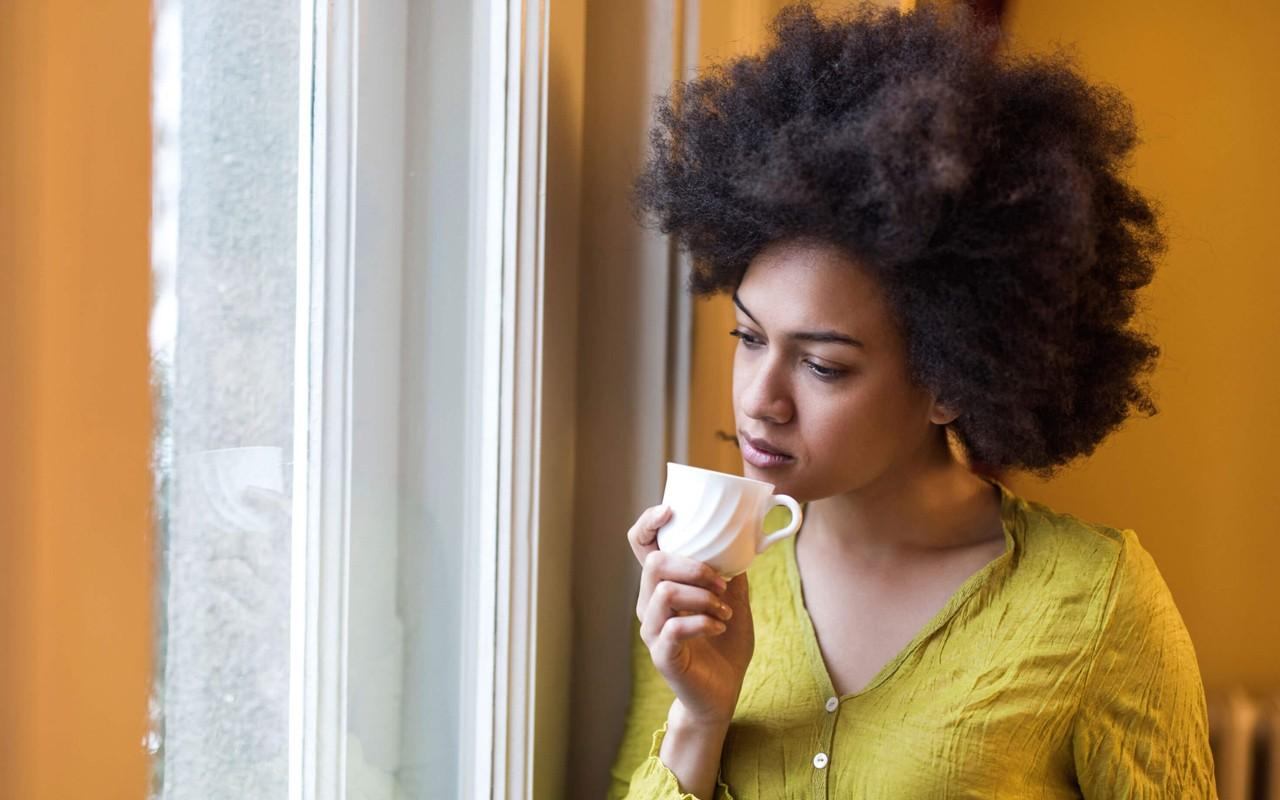 Since these tests ask questions and will use the answers you provide in the analysis, the accuracy of these online tests will depend on the accuracy of your answers.
This is why answering these tests requires utmost honesty and certainty. While these tests may indicate a possible result, they shouldn't be treated as a replacement for formal pregnancy tests and medical consultations.
When to Take an Online Pregnancy Test
After understanding what an online pregnancy test is and its accuracy, your next question might be when the right time is to take these tests.
Since early pregnancy symptoms are triggered by the presence of hCG in the body, it is most advisable that you wait until the due date of your monthly period before taking an online pregnancy test.
The higher the level of pregnancy hormones there is in your body, the higher the probability that you'll exhibit symptoms, and the online test will become more accurate in assessing your pregnancy or no-pregnancy.
Test Questions Concerning Early Pregnancy Symptoms
As established earlier, online pregnancy tests are mostly derived from questions asked by gynecologists regarding early pregnancy symptoms.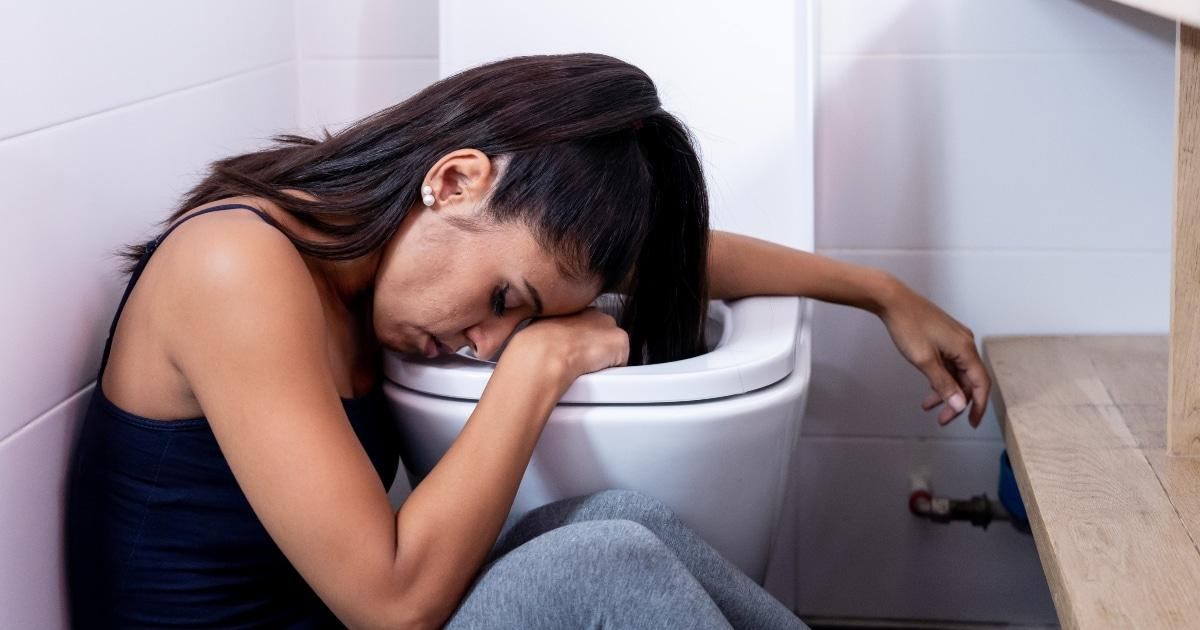 The most common question you may encounter when answering these tests is whether your monthly period is overdue or if you missed it completely.
This is because missed or late periods are oftentimes caused by pregnancy.
However, the cause of a missed or late period may also happen due to other reasons, ranging from hormonal imbalance to medical conditions.
Other Symptom-Related Questions
Online pregnancy tests may also ask you whether you experience nausea and vomiting, which may also be referred to as "morning sickness," although it happens at any time of the day.
Physical changes may also occur, particularly with your breasts. That's why tests may ask you if your breasts are becoming tender and larger and whether your nipples are changing in color.
Other questions may touch on other early pregnancy symptoms, such as shortness of breath, abdominal cramping, and spotting.
Test Questions Related to Sexual Activity and Birth Control
Aside from early pregnancy symptoms, online pregnancy tests may include questions about your sex life and whether you and your partner currently use birth control methods.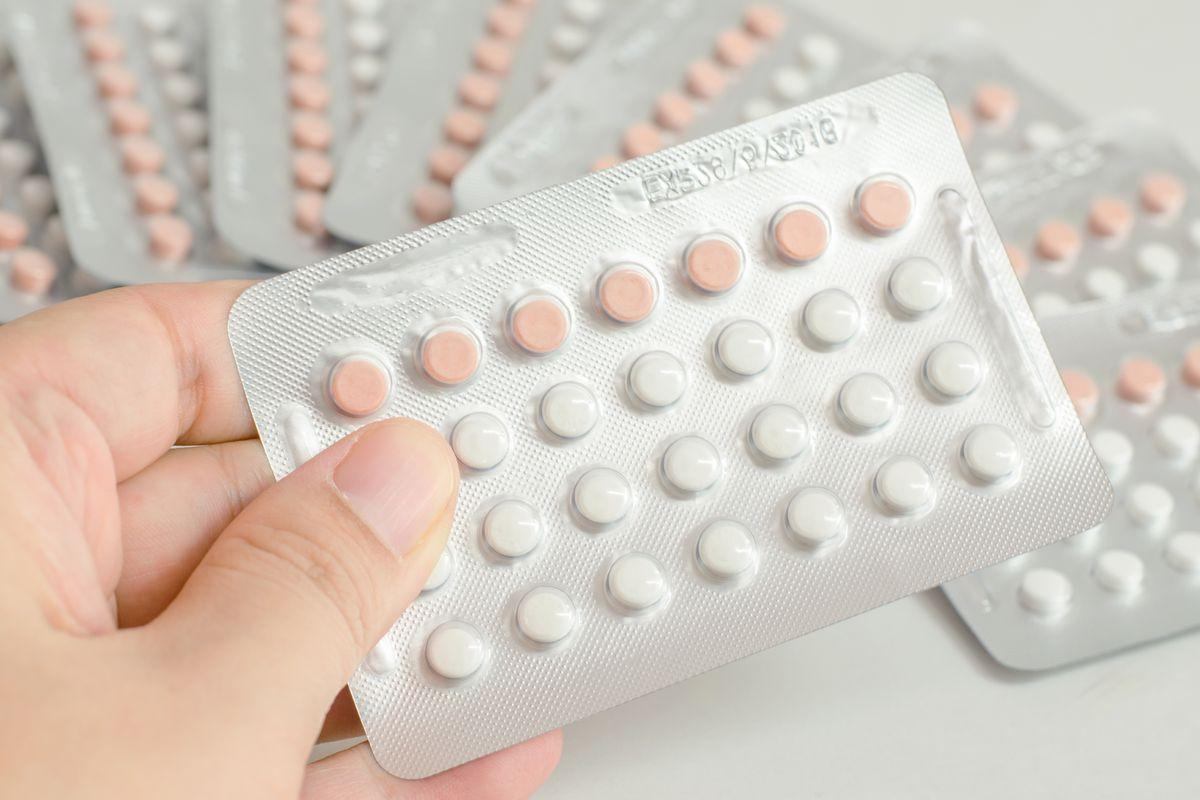 The most obvious question that you may find is whether you had sex during your previous cycle, specifically near your ovulation window and fertile period. Sex during this period increases the likelihood of pregnancy.
As mentioned, the next question would be whether you are using any form of birth control.
While it's safer to have sex outside your ovulation, unprotected sex could still lead to pregnancy.
Other Common Test Questions
Other questions that you may encounter when taking these tests may concern unusual behavior or experiences. These are things that you don't normally feel but are common to feel when you're pregnant.
You may be asked whether you experience more frequent urination because pregnancy increases body fluids and causes better kidney efficiency. You may also be asked if you feel more tired than usual.
Another question might be whether you have certain food cravings or a distaste for food that you previously liked. Usual cravings are for food that provides energy and calcium.
Mobile Apps for Online Pregnancy Tests
Aside from websites and pages, some mobile apps may be used as online pregnancy tests. Here we feature two mobile apps of this nature, one for Android users and another for iOS device owners.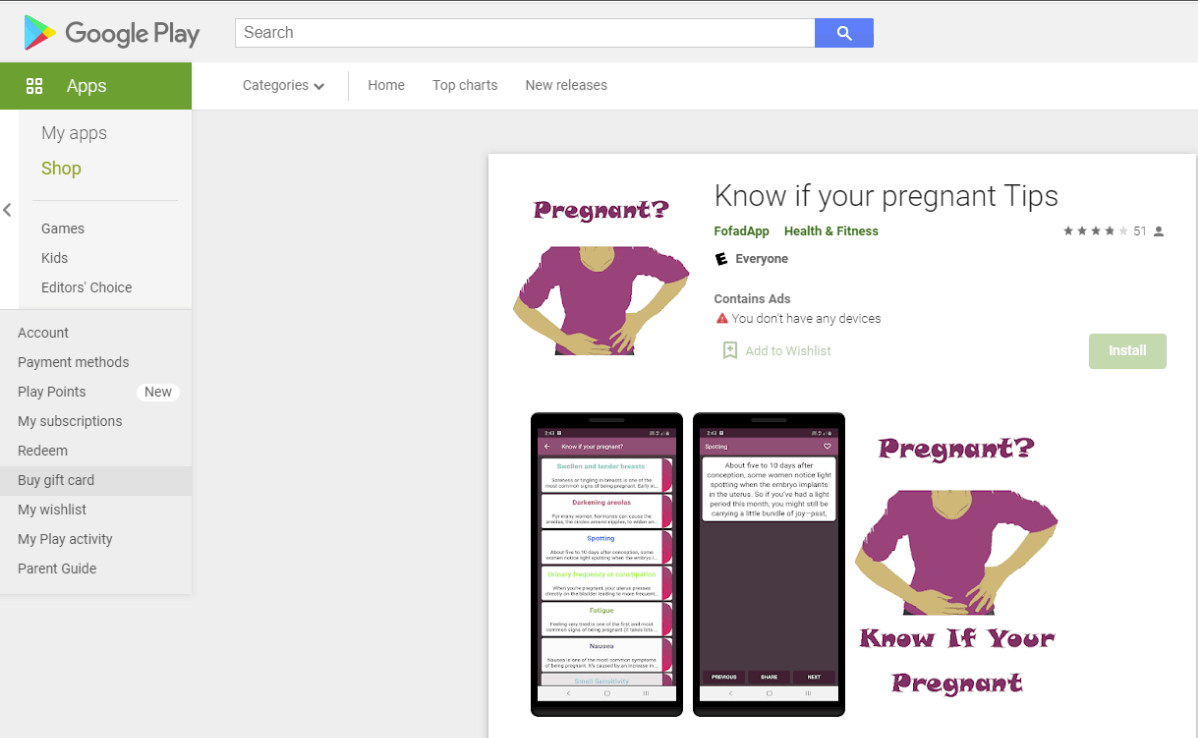 If you're an Android user, you may consider using the app called "Know if your pregnant Tips" from FofadApp. You will find it under the Health & Fitness category on the Google Play Store.
The app provides a checklist of the early signs and symptoms of pregnancy.
Tapping on one item on the list will open a screen that provides an explanation about the symptom.
Downloading and Installing the App on Android Devices
The app has a file size of 6.1 MB and requires your device to run on Android 5.0 and up to function correctly.
To begin downloading, tap on the Install button. It will automatically begin installation on your device once all necessary files have been downloaded.
Pregnancy Test Quiz for iOS Users
Meanwhile, iOS users may take a look at an app called "Pregnancy Test Quiz" from Reticode. You will find it on the Apple App Store under the Health & Fitness category.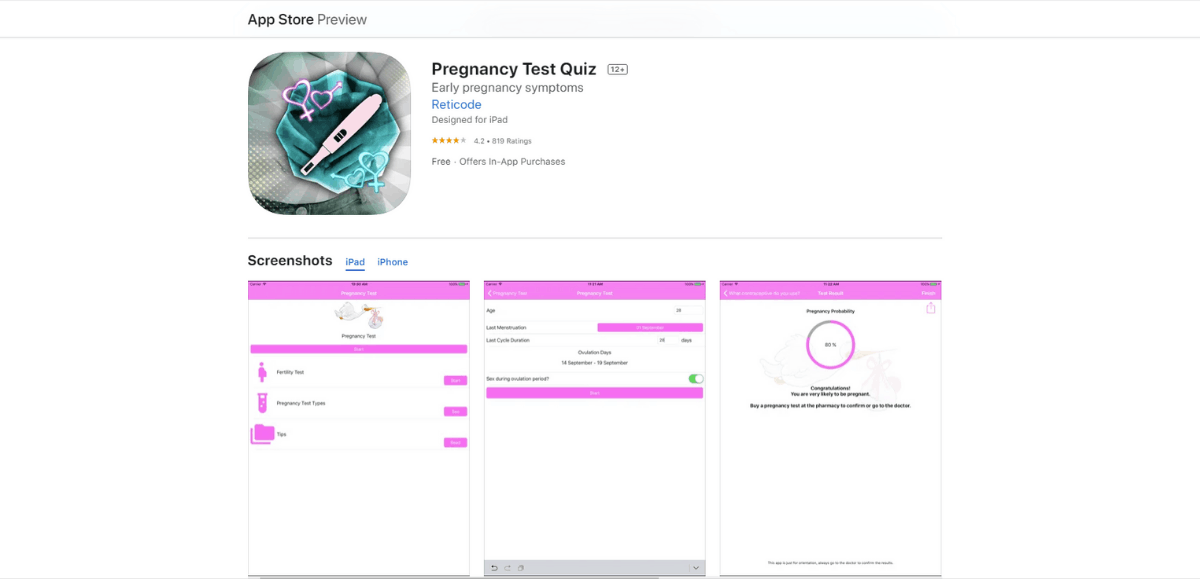 The Pregnancy Test Quiz app is free to download and use but offers some in-app purchases. It currently has a rating of 4.2 out of 5 stars based on more than 800 user reviews.
It is available in several languages, including English, French, German, Japanese, Korean, and Spanish.
Downloading and Installing the App
The app has a file size of 21 MB and requires iOS 12.2 or later for both the iPhone and iPod touch and iPadOS 12.2 or later for the iPad.
It can also be installed on a Mac computer as long as it runs on macOS 11.0 or later and a Mac with Apple M1 chip.
To download, tap on the Get button, and it will start the download and installation process.
Conclusion
Taking online pregnancy tests or quizzes could be a helpful and costless way to determine early pregnancy. However, it shouldn't be used as an alternative. It should be treated as a supplement to formal pregnancy tests and OB-GYN consultation.
Because symptoms of early pregnancy may sometimes be similar to those of premenstrual syndrome, testing for hCG remains the more accurate and reliable way to determine pregnancy.