Diastasis Recti is very common for many women especially after pregnancy, but most women don't know how to recover from this ab separation after having a baby.
I love 30 day challenges because doing a little bit every day can make a big change.
Doing heel taps, hip bridges, bird-dogs, and cat-cows are great ways to heal your ab separation after having a baby.
This 30 day Diastasis Recti challenge will slowly increase your reps that way you don't overdo it and make things worse on your body.
This workout is to help you during your stage of recovery after having your baby.
You will want to repeat each day's set 2-3 times to get a good workout in.
Related Posts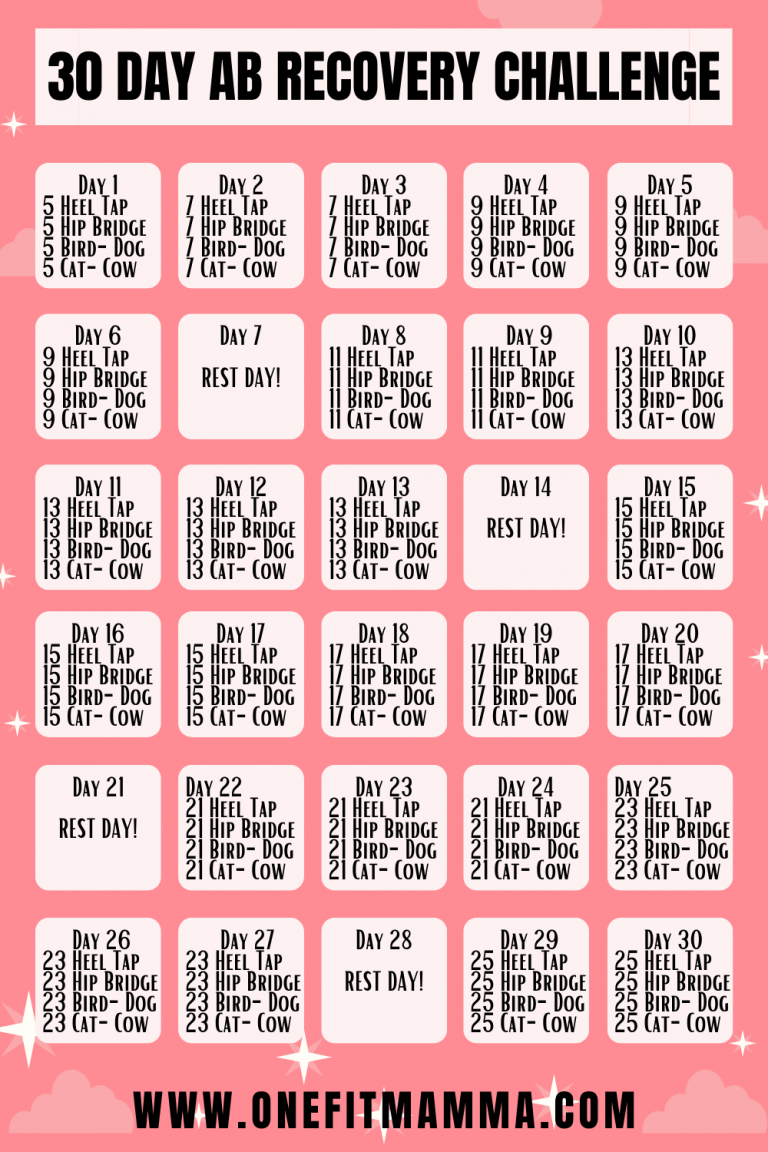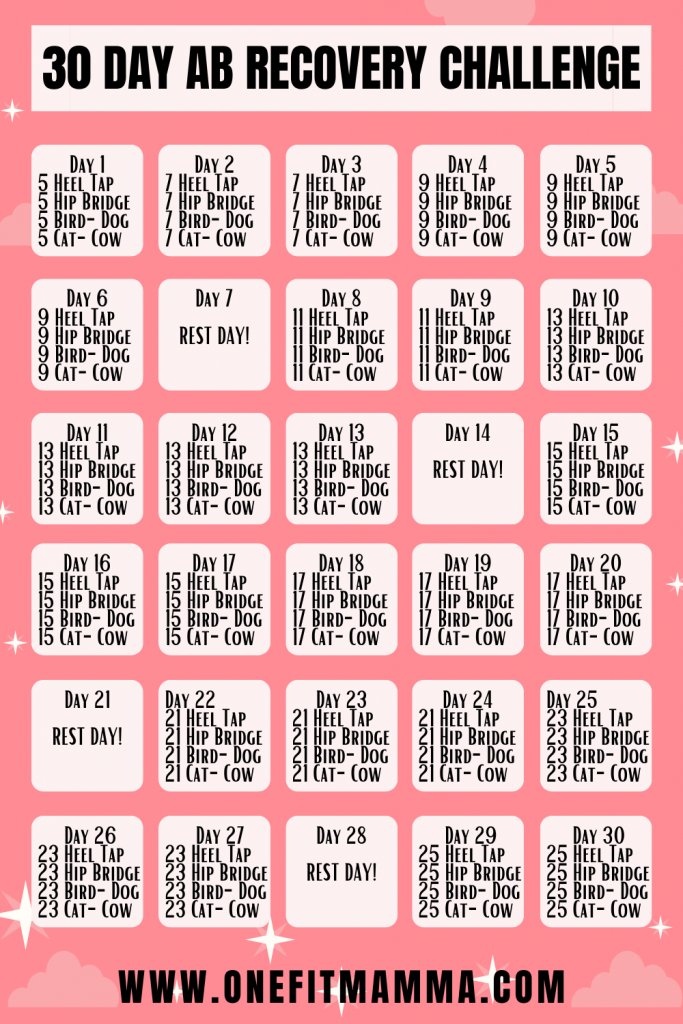 Here is the pdf file if you want to print it out!
Diastasis Recti Challenge
If you don't know how to do any of the moves you can watch the video, the moves are done in the order of the challenge.
Day 1
Heel Taps x5
Hip Bridge x5
Bird-Dog x5
Cat-Cow x5
Day 2
Heel Taps x7
Hip Bridge x7
Bird-Dog x7
Cat-Cow x7
Day 3
Heel Taps x7
Hip Bridge x7
Bird-Dog x7
Cat-Cow x7
Day 4
Heel Taps x9
Hip Bridge x9
Bird-Dog x9
Cat-Cow x9
Day 5
Heel Taps x9
Hip Bridge x9
Bird-Dog x9
Cat-Cow x9
Day 6
Heel Taps x9
Hip Bridge x9
Bird-Dog x9
Cat-Cow x9
Day 7
Rest Day
Day 8
Heel Taps x11
Hip Bridge x11
Bird-Dog x11
Cat-Cow x11
Day 9
Heel Taps x11
Hip Bridge x11
Bird-Dog x11
Cat-Cow x11
Day 10
Heel Taps x13
Hip Bridge x13
Bird-Dog x13
Cat-Cow x13
Day 11
Heel Taps x13
Hip Bridge x13
Bird-Dog x13
Cat-Cow x13
Day 12
Heel Taps x13
Hip Bridge x13
Bird-Dog x13
Cat-Cow x13
Day 13
Heel Taps x13
Hip Bridge x13
Bird-Dog x13
Cat-Cow x13
Day 14
Rest Day
Day 15
Heel Taps x15
Hip Bridge x15
Bird-Dog x15
Cat-Cow x15
Day 16
Heel Taps x15
Hip Bridge x15
Bird-Dog x15
Cat-Cow x15
Day 17
Heel Taps x15
Hip Bridge x15
Bird-Dog x15
Cat-Cow x15
Day 18
Heel Taps x17
Hip Bridge x17
Bird-Dog x17
Cat-Cow x17
Day 19
Heel Taps x17
Hip Bridge x17
Bird-Dog x17
Cat-Cow x17
Day 20
Heel Taps x17
Hip Bridge x17
Bird-Dog x17
Cat-Cow x17
Day 21
Rest Day
Day 22
Heel Taps x21
Hip Bridge x21
Bird-Dog x21
Cat-Cow x21
Day 23
Heel Taps x21
Hip Bridge x21
Bird-Dog x21
Cat-Cow x21
Day 24
Heel Taps x21
Hip Bridge x21
Bird-Dog x21
Cat-Cow x21
Day 25
Heel Taps x23
Hip Bridge x23
Bird-Dog x23
Cat-Cow x23
Day 26
Heel Taps x23
Hip Bridge x23
Bird-Dog x23
Cat-Cow x23
Day 27
Heel Taps x23
Hip Bridge x23
Bird-Dog x23
Cat-Cow x23
Day 28
Rest Day
Day 29
Heel Taps x25
Hip Bridge x25
Bird-Dog x25
Cat-Cow x25
Day 30
Heel Taps x25
Hip Bridge x25
Bird-Dog x25
Cat-Cow x25