You are coming up at the end of your pregnancy and now it's time to pack your bag for the hospital!
I have read so many hospital bag checklists and most of them look like your packing to stay for a couple of weeks. It's like you need a bag for each individual person which is crazy to me!
My doctor said that sometimes he sees people bringing 3 large suitcases for labor and delivery. Which is nuts in my opinion!
This checklist should be able to fit into one bag total for mommy, daddy, and even baby!
This list is for all you minimalists out there!
You will want to pack your hospital bag around 32-35 weeks just in case if your baby decides to come early!
If you want a list of things to accomplish while you are in your third trimester I have a great list so you will feel like you have everything prepared for your babys arrival.
Mommy's Hospital Bag Checklist
Labor Gown
This is optional. Some women feel comfortable in the hospital gown that they give you.
I just plan on using what they give me and then switching into a nursing nightgown so I'm more comfortable postpartum.
You do whatever you feel comfortable in, Amazon has some super cute labor gowns that have a matching outfit for the baby.
Something to Relax you
Bring something that could relax you.
For some that may be a book for others it's music.
We plan on bringing a bluetooth speaker and playing some ocean sounds in the background.
You bring whatever will help you to relax girl!
Cellphone and Charger
This is essential pretty much anywhere! Make sure to not forget your charger especially if you plan on taking pictures with your phone.
If you plan on bringing a separate camera make sure that you have a charger and an SD card for it!
Glasses
Now I don't wear contacts or glasses anymore, but if you wear contacts make sure to bring your glasses.
When I did have contacts many years ago, after about 12 hours my eyes would feel so dry.
Imagine going through labor and having dry eyes, you will just want to rip those suckers out. If you are blind as a bat and can't get away without seeing bring your glasses!
Hair tie
You will want your hair out of your face so make sure you have a ponytail in your bag.
Chapstick
Everyone says chapstick is a must! Your lips will dry out so much from being dehydrated and exhausted!
If you are anything like me I'm pretty much putting chapstick on several times a day. I would die without it!
Having soft lips will make you feel a little more human!
Snacks
You will definitely want snacks after the hours of labor you will be going through. You won't know when your baby comes out and they could have the cafeteria closed. So just bring some of your favorite things to eat.
Some hospitals will even allow you to snack on certain things while you are in labor. On your next prenatal appointment ask them what they allow that way you can be prepared in this department.
Pillow
You only get a couple of pillows and they are super thin and uncomfortable.
If you want to be more comfortable bring your pillow from home, but make sure to have a colored pillowcase on your pillow so it doesn't get mistaken for the hospital pillows.
Slippers or Sandals
You will want something on your feet when you walk around the hospital. Some women like slippers if your feet get easily cold, or you can wear fuzzy socks with your sandals if you prefer.
You just will want something you can easily slip on and off. You definitely don't want to be barefoot on those hospital floors.
Nursing Gown and Nursing Bra
After labor and delivery you will want something to slip into after you have a glorious shower!
You will definitely want a nursing bra that is easy to unhook.
Outfit for home
An outfit to go home is a must. You don't want to go home in no clothes.
Now you can just wear what you wore after you showered, but you might want a backup outfit in case you get blood on it.
So just make sure that you have 2 outfits. Possibly a nursing gown, sweatpants and a tank top. Or two nursing gowns. Just get whatever you will be comfortable in.
Remember though that you just had a baby and your tummy has not shrunk back to its pre-pregnancy size so bring clothes that are larger.
Possibly sweats that you wore while you were pregnant and a baggy t-shirt.
You just want to be as comfortable as you can after birthing a watermelon!
Toiletries
The hospital does have this stuff, but if you want to feel more like yourself again I suggest bringing your own.
We plan on bringing a trial size of shampoo, conditioner, toothpaste and body wash. That way you have more space in your hospital bag. Plus if you accidentally forget them it's not big deal!
Don't forget a toothbrush, hairbrush, and your deodorant!
Granny Panties
The hospital will give you some mesh underwear, but also bring some large granny panties!
You won't want to mess up your cute underwear with all of the postpartum mess. Buy granny panties that you can just throw away when you are done with your postpartum care.
Stool Softeners
This is a necessity!
After labor everything hurts down there and they want you to poop at the hospital to make sure everything is going well.
Stool softeners help this first poop come out a lot better.
The last thing you want is to try to push out a hard big poop after you went through labor.
Birth Plan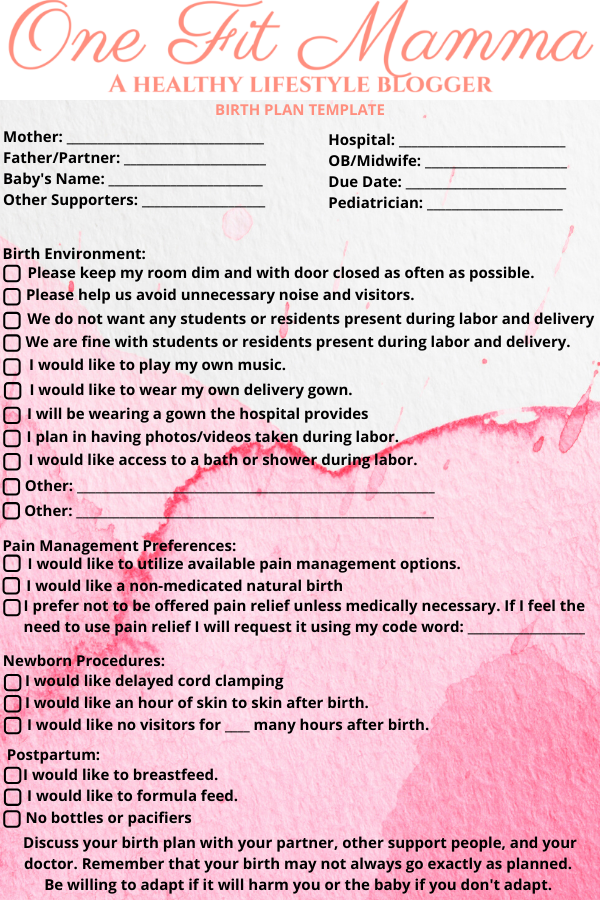 If you have a birth plan make sure to bring several copies so everyone knows what your desires are during labor.
If you don't have a birth plan I have a super cute PDF that you can print out in this post!
Medical Cards
Be sure not to forget your ID and medical cards! This helps paperwork go much smoother.
Daddy's Hospital Bag Checklist
You can pack all of the things you need for your significant other in your bag or in a small duffle bag, whichever you prefer.
He won't need a lot of things just the main essentials.
Snacks
Bring lots of snacks! He will need to keep his energy up if he is going to help you through the birthing process.
Plus why waste a lot of money on the hospital vending machine snacks.
My husband eats a lot of food, like double a normal person, not even joking here!
I joked with him that I would need to bring the diaper bag full of just snacks for him! Which will more likely happen since he will need it.
Also bring a couple of energy drinks if they like those things and if it helps keep their energy up. You never know how long labor will be!
Phone and Charger
Make sure he doesn't forget his phone and bring a separate charger for his phone. That way y'all don't have to fight over the charger.
Toiletries
Make sure to pack toiletries for him. He will need things for the shower, deodorant, toothpaste, and his toothbrush.
You can do trial sizes for all of his stuff as well!
Massage oil
This one is for you of course. If you like massages make sure to bring some oil. This massage oil is lavender scented and very relaxing!
This is a great way for your partner to help relax you, plus it's the least they can do while you are going through labor pains!
Clothes
Bring a sweatshirt if your partner gets cold easily. You will be cranking up the ac while you are in labor because you will be so stinkin hot!
Also bring two pairs of clothes for him for the stay at the hospital.
Pillow
He will need a comfy pillow as well because he will be sleeping in the hospital.
The hospital ones are not comfortable at all so it's best that both of y'all have something comfy to rest your head on!
Be sure to have it in a colored pillow case so it doesn't get mistaken for the hospital ones.
Glasses
My husband wears contacts so I plan on bringing glasses as well just in case his eyes get tired and dry.
You might want to think about bringing your partners glasses just in case as well!
Baby's Hospital Bag Checklist
The baby won't need a whole lot of things either because the hospital provides most of it.
Be sure to call your hospital and ask what they provide for your stay.
It's a great way to get freebies as well because they will more than likely send you home with these things after you're done at the hospital!
Carseat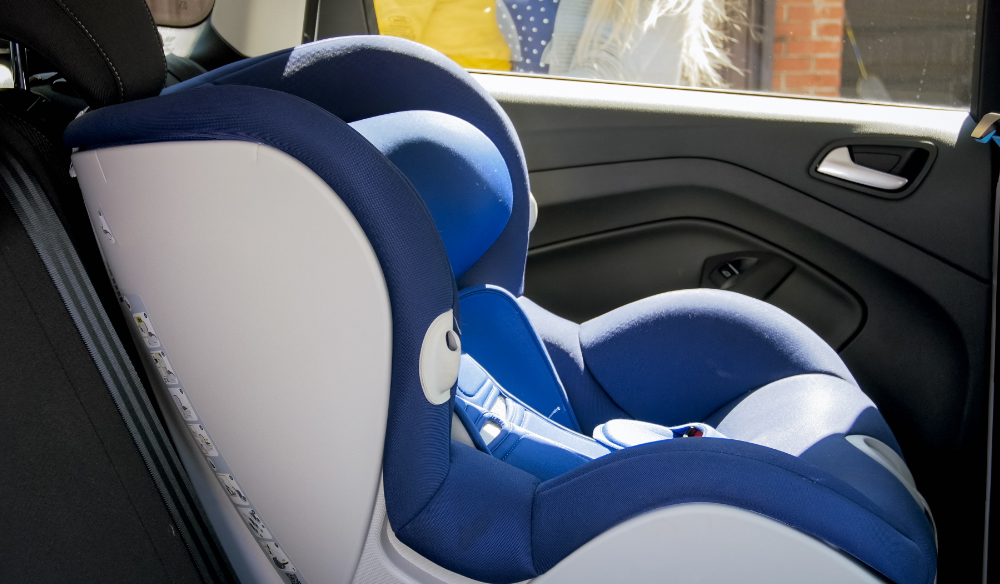 Have this installed before you head to the hospital. I would suggest even having the base installed weeks before your due date, just in case your baby decides to come early.
All hospitals check the car seat for the expiration date and if it's installed properly before you leave the hospital with your new baby.
Swaddle Blanket
The hospital will have swaddle blankets, but if you want your own for pictures or just because you want to make sure to pack a couple.
Clothes
Bring a couple of onesies for your baby. Most of the time your baby will be swaddled up or skin to skin breastfeeding on you.
But you will want a couple of onesies or an outfit to go home in.
Depending on the weather you will need to bring other things. If it's cold bring more layers and if it's warm you should be fine with a onesie, pants, and socks.
Burp cloths
Your baby will spit up so having a couple of your own burp clothes on hand will be nice to have.
Nursing pillow
A lot of people say that the pillows at the hospital are fine, but a nursing pillow will be so much better!
Plus if you have any questions about different positions with your nursing pillow it will be best to ask your lactation consultant while you are there.
You might as well have the tools you will use while you are home. That way you can get used to using them in the hospital while you are learning!
I love the Boppy Nursing pillow. A lot of moms actually recommend it! The awesome thing is you can get replacement covers just in case your baby spits up on it or if you want something different!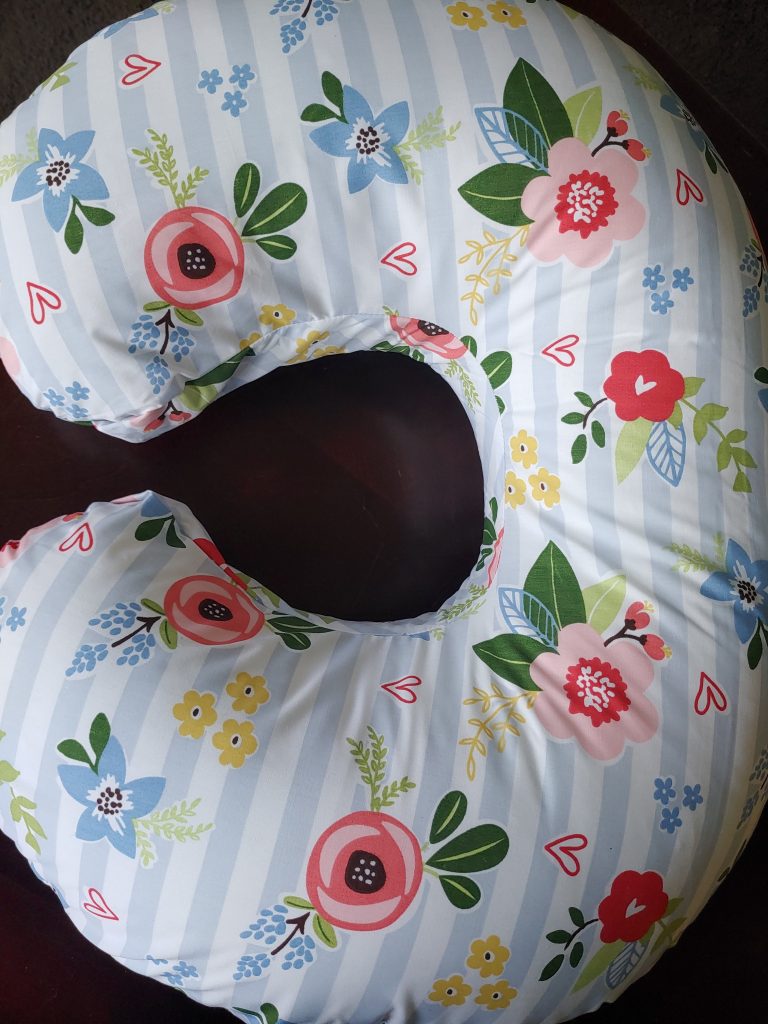 You can also use it for tummy time with your baby. It's multipurpose and boy do I love a good multipurpose thing!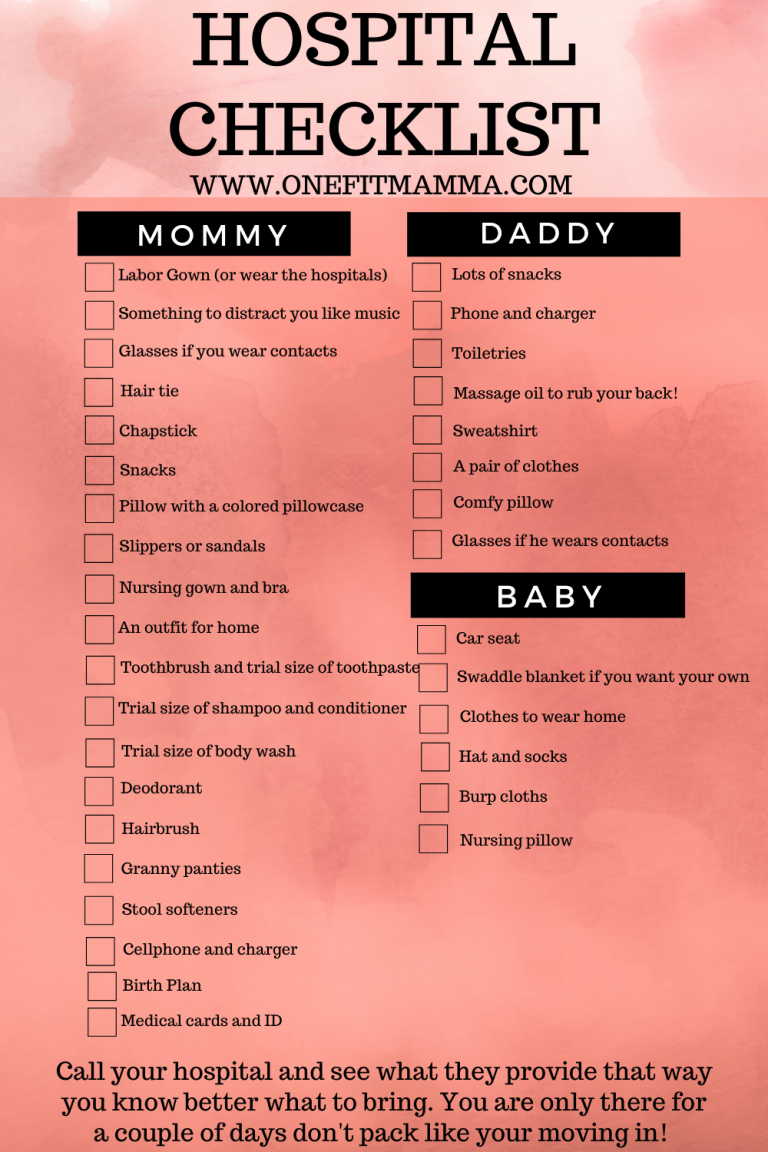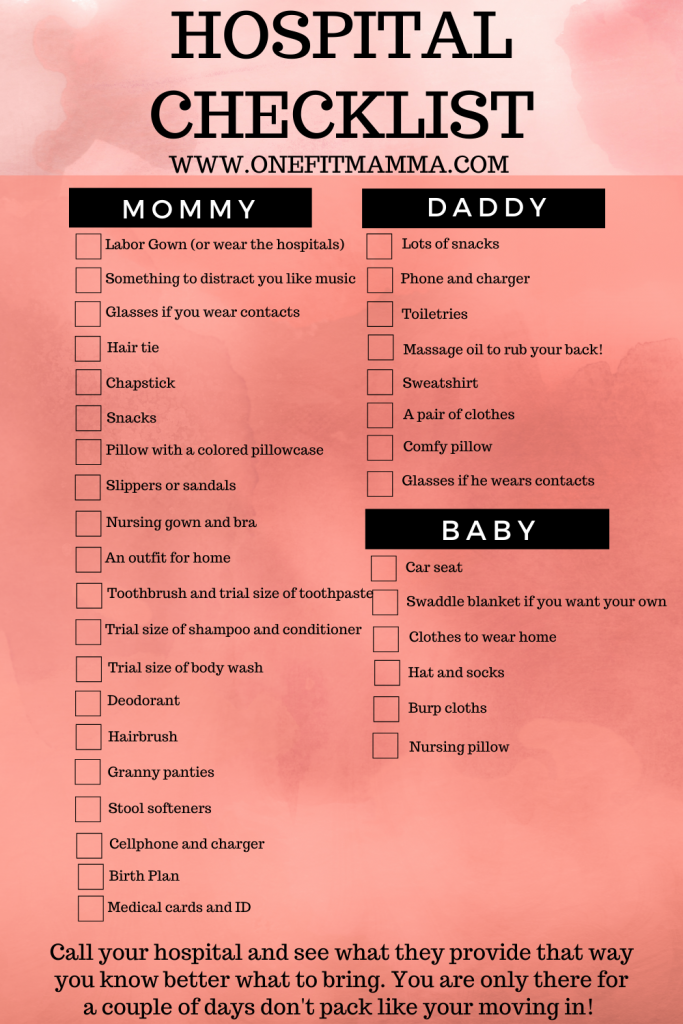 Here is the PDF of this checklist so you can print it out and check things off!
If there were others things you felt were must haves comment them below!