There are defining moments in your baby's life that you want to be present for every step of the way. One of these memorable moments is when they are finally sitting in a feeding chair getting ready to eat more solids.
Having your baby sit in a high chair is a cause for celebration. After all, this allows them to participate in family gatherings and dining activities. Plus, this definitely frees you up from constantly holding and hovering around your baby.
Unfortunately, not many mothers are well-informed and equipped on how and even when to use the feeding chair. This article will let you in on how you can keep your child safe while using their high chair. Take a look at the topics we'll be discussing below.
What Is a Feeding Chair?
The Right Time to Use a Feeding Chair for Your Baby
Qualities to Look for in a Feeding Chair
How to Properly Use a Feeding Chair
High Chair Safety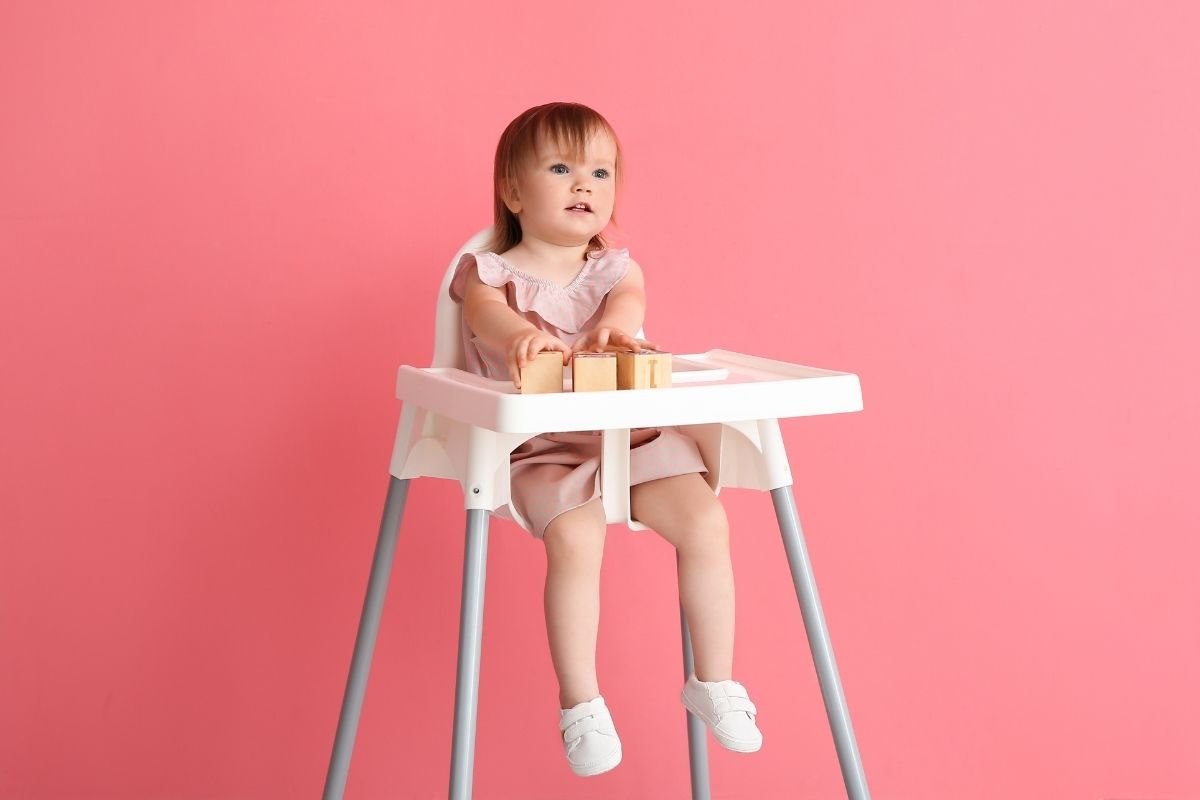 What Is a Feeding Chair?
Many parents, especially first-time ones, remain unaware of what a feeding chair is. Simply put, a feeding chair is a tall chair that stands on the floor. It is designed to help feed older babies and toddlers, which is why the seat tends to be raised quite high from the ground.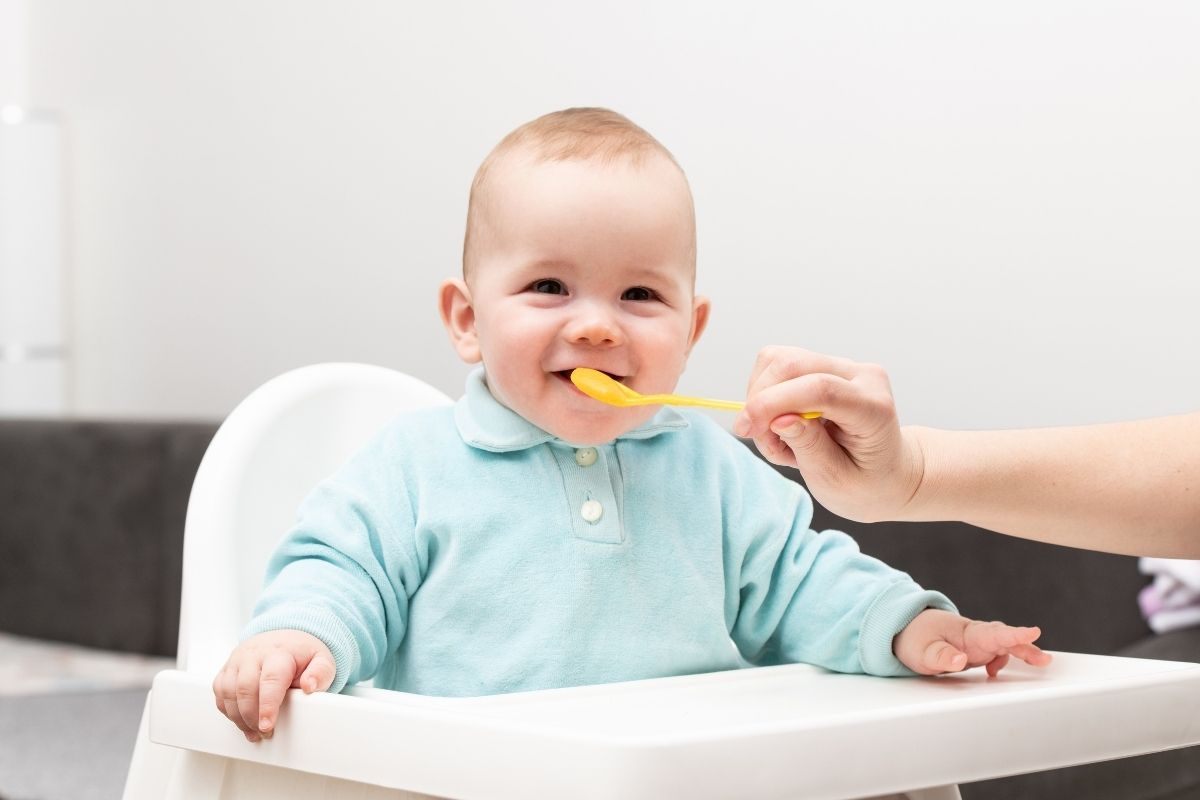 The height aids adults and parents alike in feeding a child comfortably even when they are sitting or in a standing position. The feeding chair is also commonly called the high chair due to its raised distance from the ground.
A feeding chair is typically equipped with a tray attached to it and this is where parents can place the food that they will feed the baby or where the child can pick up their food.
It generally has a wide base to make it more stable. Today, it usually comes in different designs.
Understand How a Feeding Chair Works
This piece of furniture works by having the baby sit in the chair while secured using a safety belt to assure that they won't climb up or fall down.
Afterwards, mothers or parents who are in charge of feeding the child will place the food on the tray provided. They will either spoon-feed the baby themselves or have the child get the food using their own hands.
The Right Time to Use a Feeding Chair for Your Baby
A high chair is typically used by babies around six months of age. This is around the time that babies are normally ready to sit upright and are capable of holding or carrying their head and neck without having to be supported by pillows.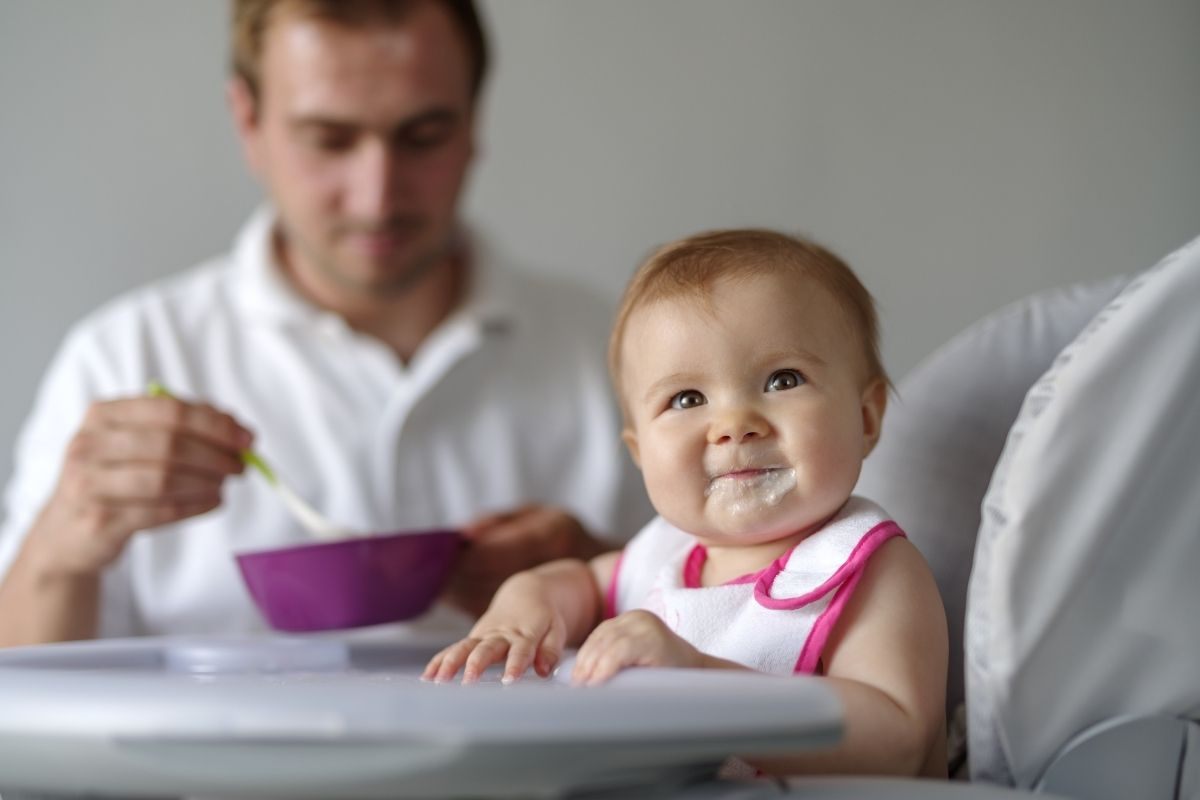 While this is the estimated timeline for when your baby may be ready to use the feeding chair, bear in mind that this varies from one child to another given that children develop at their own pace. Don't rush your baby's progress as this may only harm them in the long run.
What you need to remember is that your baby needs to have postural stability in order to sit in the feeding chair. This means that they are already capable of holding their head and neck well.
Telltale Signs Your Baby Is Ready for a High Chair
By now, you already know that your baby's capacity to sit upright is essential in determining their capacity to sit in a high chair. Alongside this, however, you must take into account of your baby is able to move their arms on their own.
In addition, another sign that your baby may be ready to sit in a feeding chair is when they can already maintain this sitting and upright position for quite some time. This also inadvertently tells you that they are ready to start eating more solid food and that their airways will not be blocked.
Be sure to keep watching your baby's development and progress over time to gauge whether or not they are ready to be placed in the high chair.
Qualities to Look for in a Feeding Chair
Now that you know more about when your baby is ready to use a high chair, it's essential that you know what to look for in a feeding chair as well. One of the most important aspects you should take into account is its durability, particularly if you want to last it for at least two to three years at a time.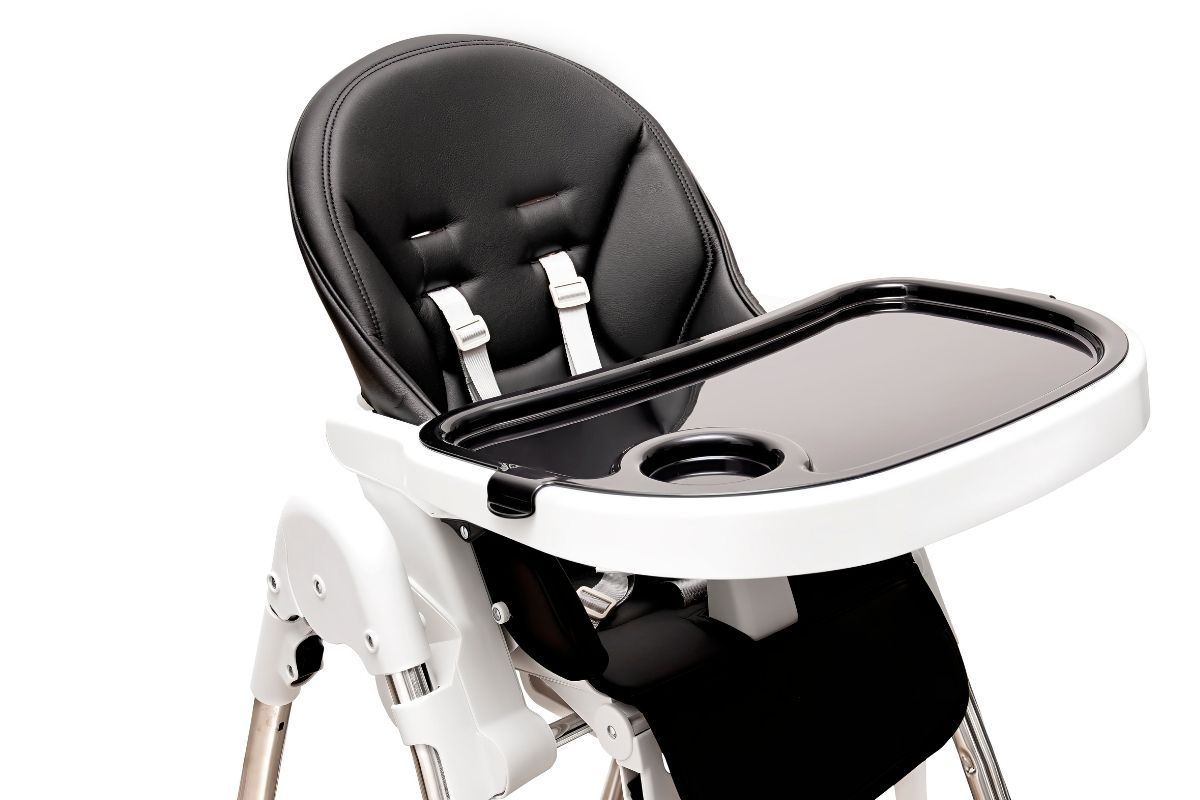 Besides durability, one of the main considerations is, of course, the functionality of the chair. Check to see if the high chair allows you to put your baby in with ease. At the same time, see if it has a detachable tray as this makes cleaning up easier and putting your baby in a whole lot faster.
Other functions to look for include high chairs with wheels. This is a no-brainer for parents who want to move their feeding chairs from one place to another.
In addition, you may want to consider is if it is a transitional piece of furniture. This means that it grows and accommodates the needs of your baby. You should look for a high chair that can cradle your baby as they sit upright and then later on can serve as a booster chair for more independent toddlers.
Other Features to Consider
Not all houses are spacious, so if you are in a pickle, having a feeding chair that folds will become a lifesaver. It will make your house look more spacious. Another plus is that you can take this foldable option with you around when traveling or going to another location. Features that meet the Safety Standard for High Chairs should also be high up on the list.
With this, your baby's feeding chair should be equipped with adjustable seat straps. This allows you to buckle and unbuckle them in for their safety.
Besides this, keeping your baby comfortable as they seat through their feedings is also vital. As such, looking into a high chair that is made with padding or a footrest might be ideal. For your sake, having an easy-to-clean or wipe-down tray and feeding chair will also be helpful.
How to Properly Use a Feeding Chair
Be sure to assemble your baby's feeding chair according to the manual and check to see if it is stable and everything is in place. Taking the extra time to assess the chair's stability will help in making you feel more at peace, especially once your baby is already in it. Do this before every use.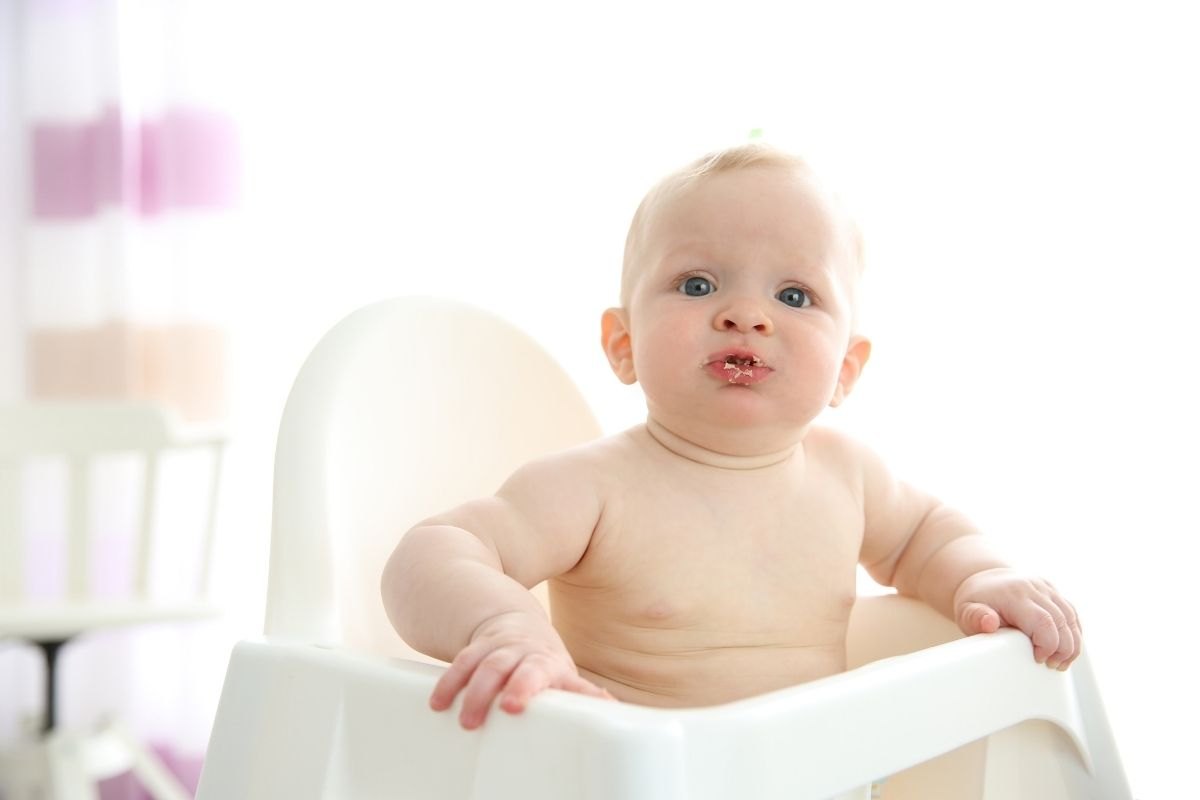 If your baby's high chair folds, don't forget to keep the locking mechanism in place. This ensures that the chair won't buckle or move, or that it will not tip over. While you're at it, you should also lock the wheel of your little one's feeding chair to keep it from moving.
Once your baby is already placed in the high chair, make sure that their safety strap or harness is placed right away. This will keep them secure in their position.
When your child is already sitting, make sure to keep their feeding chair close to you at all times so that you can keep an eye on them and how they eat.
Getting Your Baby Used to Being in a High Chair
Sitting in a feeding chair is a new sensation for your precious one. Prior to giving them solids, allow them to sit in the chair for a few minutes at a time to get them accustomed to this.
To get them used to this new experience, try giving them utensils that they can play with. A spoon, their sippy cup, or even their plate will do the trick.
This will also help them become aware of the things they'll be using later on as they begin to eat more solid food.
High Chair Safety
As mentioned, your baby can try to get out of the chair and wiggle their way. Never leave your little one alone even when you are in the same room.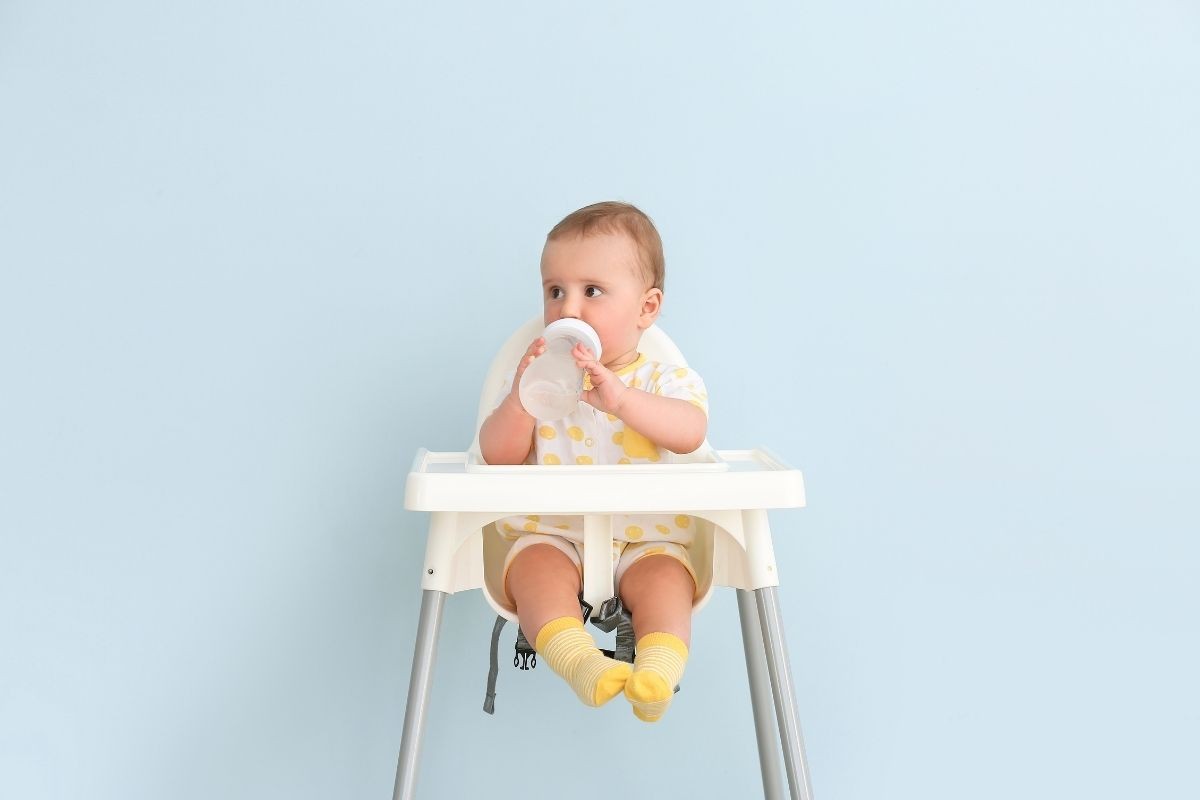 This is why it is imperative that you keep them strapped in or use the harness to keep them from coming in contact with feeding chair-related accidents.
In addition to this, you should never let your baby stand on a chair. This can lead to dangerous and life-threatening instances where they could incur head, facial, and neck injuries, particularly if they fall off or the chair topples over.
What to Consider When Using a Feeding Chair
Let's face it, your baby's high chair gets a lot of traffic. Because of this, it's important that you clean it after every use. This prevents mold growth and food from being trapped in its crevices. Doing so makes the chair more hygienic as well.
While strapped inside their chair, keep your baby away from solid surfaces such as the countertop or the table. While their legs may be tiny, they might be able to gather just enough strength to push themselves away using their legs.
Final Thoughts
Learning to use a feeding chair isn't as easy as one might think. With your baby's safety in mind, it's best to learn about the safety features and qualities you want to have in a high chair as well as thoroughly study how to properly use one for your peace of mind.
A feeding chair is just one of many essential baby items, but it is important to make sure that you use it correctly.
References