This will be our first Christmas with our baby and we are so excited. It's crazy that last Christmas we just barely found out the gender of our baby and now he is going to have his first Christmas!
I know Christmas time is so crazy especially when you are trying to entertain kids and cook dinner at the same time.
I was always the one that would be entertaining the kiddos when my mom was cooking dinner. So I wish that I had these different Christmas printables because that would have made my life way easier.
My hope is to help you with many different kinds of activities that range from different ages to keep your kids busy while you are trying to get dinner done! Or even while you want to hang out with just the adults!
This package includes a Christmas word search, Christmas crossword puzzle, Christmas bingo cards, and Christmas coloring pages.
Even better, you don't need to sign up for anything or pay for anything! Just download the pdf and print the pages!
Also there are even more Christmas printables for you mammas so you pretty much have an unlimited supply in this post!
Christmas Word Search
Christmas Crossword Puzzle
Christmas Bingo Cards
Christmas Coloring Pages
Now if you are wanting more christmas printables, I've got you covered! I have gathered many other printables from my mommy friends so y'all could have the ultimate list!
More Free Christmas Printables
Christmas Dot Marker Printable
Looking for a free Christmas dot marker printable? Check out this awesome Christmas printable for dot markers. This worksheet is perfect for getting into the Christmas spirit. It is also super easy to download and print. There is no sign up of any kind required to print this Christmas themed do a dot printable.
Christmas Wreath Craft for Preschoolers
This Christmas wreath craft for preschoolers is so much fun. It is the perfect way to start getting into the Christmas spirit. It is great for a homeschool preschool project, a fun activity at home, or for a preschool classroom or daycare setting.
Christmas Bingo Set
Playing Bingo at holiday parties has become a fun tradition for our family, and I had a lot of fun putting this Christmas Bingo set together. With the game being all images, it's easy for kids of all ages to play. So go grab some Christmas candy, print out the Bingo sets, and get playing!
Free Printable Christmas Jokes
In the download I've got 20 different kid-friendly Christmas-themed jokes that can either be put into a lunch box, or use them as a favor at your Christmas parties this year! The kids will love repeating the jokes throughout December.
Free Printable Christmas Bookmarks
There are six Christmas character bookmark designs: Elf, Gingerbread Man, Snowman, Christmas Tree, Reindeer, and a Polar Bear. With so many options, these bookmarks are great for parties and to give a group of kids something to do.
Mickey Mouse Christmas Ornaments
These play doh Mickey Mouse ornaments are perfect for adding a handmade touch to your tree! These are easy enough for kids to make and are so much fun to display and share!
You could also make these ornaments in any other shape as well!
Roll A Snowman Printable
Get this free roll a snowman printable for a fun activity for the kiddos. This would be perfect for Christmas parties, school parties or just to keep the kids busy.
Write a Letter to Santa Claus
The holidays are coming! Now, we're looking for activities that get kids excited for Christmas. So, why not write a letter to Santa Claus?
Winter Gnomes Don't Eat Pete
It's that time of year when we're all trying to keep those home-caged kids busy so that we're all not pulling our hair out…at least this single mama is… it feels like the winter cold is going to last forever!
Christmas Word Search
Christmas means time for my favorite activities –decorating the tree, baking Christmas cookies, holiday crafting, and sharing Christmas traditions with our children. I hope that this festive Christmas word search puzzle helps to spread a bit of holiday joy.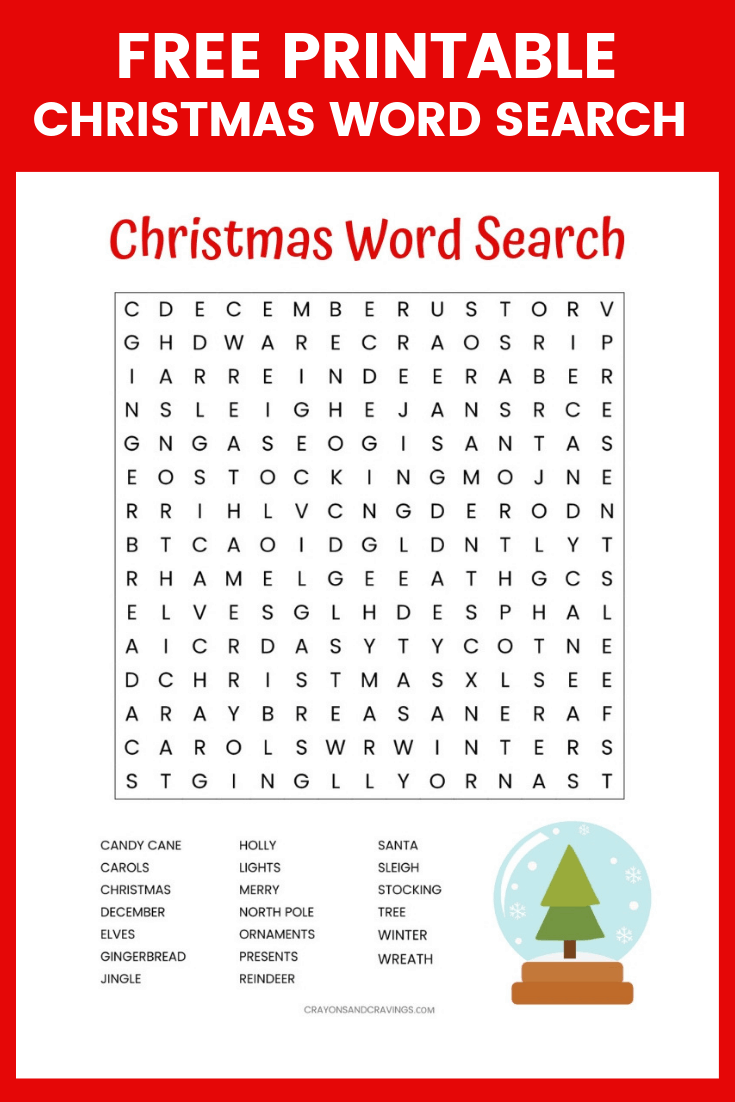 Christmas Word Puzzle
Whether you looking for a holiday word scramble with a word bank or without a word bank, I have the perfect free Christmas printable for you! The children will have fun figuring out the 10 scrambled words on this fun Christmas worksheet. This Christmas word puzzle is great for the classroom or for kids to complete at just for fun.