Are you wanting to start a blog, but have no idea where to even start?
This step by step guide will show you how to start a blog as a beginner and get it up and running even if you aren't good with technology.
I remember when I started my first blog One Fit Mamma I was so overwhelmed and frankly gave up after I wrote my first couple blog posts.
Then I came back to it almost 9 months later and I am so glad that I didn't give up.
It gave me the financial freedom that I needed to help support my family while my husband was starting his business and also gave me the opportunity to stay home with my son.
There are two groups of people when it comes to starting a blog. You either view your blog as a business and want to earn money from it, or you view it as a hobby and just want to record your adventure.
No matter which group you are in I am going to show you how to start a blog and things that I wish I knew when I started my first blog.
This post will be just the basics of starting your blog and how to get it up and running.
I have other posts about how to use Pinterest to grow your blog, how to write bomb posts that people actually want to read, and how to pick your niche.
Pick a Name and Find Your Niche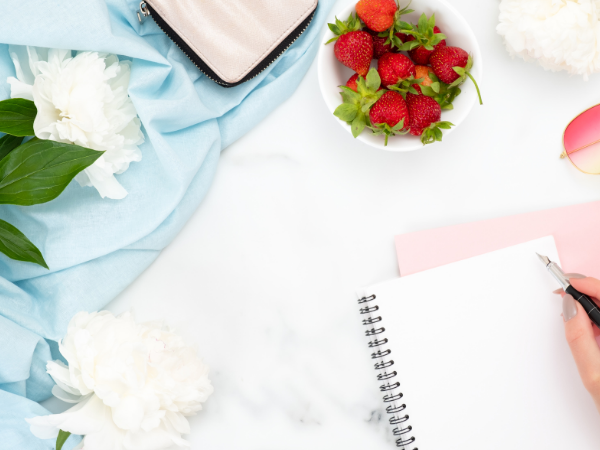 First you need to pick a name and figure out your niche. I see so many bloggers get so hung up on this because they are trying to find the perfect name and figure out their niche. Some even get so hung up on the name they never start a blog or take a few months to even get there.
The thing that sucks the most is when you have your perfect name picked out, you are ready to go buy the domain and guess what it's already taken. Then you feel this rush of disappointment and you have to start all over to find "the perfect name".
Trust me been there done that a couple times!
Now I'm going to start with picking your niche because this will help you figure out what kind of name you want to go for.
What do you want to blog about that will also solve other peoples problems? That is key if you are wanting to start a blogging business, you need to solve people's problems because frankly they care about how you can help them.
Do you want to blog about fitness, lifestyle, travel, parenting, finances, crafts, home decor, recipes, ect.
Now if its a broad subject like fitness or food it would be smart to niche down. What I mean by that is find what sets you apart. My blog One Fit Mamma is about fitness and motherhood, but it's mainly pregnancy, postpartum, and womens fitness.
Different topics to niche down on fitness would be:
Mens workouts
Womens workouts
Pregnancy and Postpartum Fitness
Yoga
Running
Barre
HIIT
Crossfit
Lifting
My point is when you figure out your niche make sure that you have credibility in this niche. Like with fitness you should have a certification or at least know what you are talking about. Motherhood you should actually be a mother. With food you should know how to cook. Ect.
People like to see that you have credibility in the subject that you are talking about. If they see that you have credibility then they will actually believe what you are saying.
Next you will want to find a name that relates to what you are blogging about. If it's a lifestyle blog most people use their names. Fitness blogs usually have some sort of fitness word in their domain name. Mommy blogs usually have kids or mom in the name. Recipe blogs usually have some sort of cooking or food word in their name.
Make sure that when you pick your name, most people have an idea of what your blog is going to be about.
My One Fit Mamma blog is about motherhood and fitness, specifically pregnancy and postpartum fitness. This blog From Mamma With Love is about motherhood life and blogging.
My advice is to find one that you really like and if it's taken play around with it and try new things.
If you are super set on the name that you want, but its taken you can also add letters or a, my, the. Like with One Fit Mamma I added another m in mamma because mama was taken.
Or you could do The One Fit Mama, A One Fit Mama, My One Fit Mama.
You could also do .net or .org if the .com version is taken, but I highly suggest trying to stick with the .com version if you can.
When I picked the name for my first blog it was already taken and I was so bummed, but I played around with the lettering and found one that I loved and was still close to my original idea.
When I picked the name for this blog I called my husband because he is definitely the creative type. I knew I wanted mamma in there to kind of tie it with my other blog, but I didn't know anything else.
Then my husband thought of From Mamma With Love and it just clicked.
If you are wanting to find the perfect name you can join some blogging facebook groups and ask for ideas and give a rough idea of what you want.
There are so many people on there that love to help. My favorite Facebook groups for beginner bloggers are:
These groups have all been very helpful when I was starting my blog. There are a huge group of people that are active in the groups so when you ask a question you will get a ton of answers and most of them are really helpful.
So the point is try to find a name that you love, but don't spend a long time trying to find "the perfect name" and niche down as soon as you can.
Pick a Hosting and Register Your Blog
My oh my you will hear so many different opinions on hosting and which are the best providers.
"Web hosting is a service that allows organizations and individuals to post a website or web page onto the Internet. A web host, or web hosting service provider, is a business that provides the technologies and services needed for the website or webpage to be viewed in the Internet." (source)
So as you can see hosting is really important if you plan on making money from your blog.
In the facebook groups I belong to one of the biggest questions is what is the best web host provider.
I have personally used a couple different ones and WPX hosting is my favorite. Most bloggers will suggest to use Bluehost or Siteground.
I have noticed lately that most people switch from Bluehost because of their poor customer service (which sucks when you are trying to start your blog and need help with technical support) and that their website runs slowly.
Siteground was great because to start a blog it was roughly $75 for the first year because it is discounted a ton when you first join their service. Their customer support is great and the speed is okay. Once I renewed the next year it cost me a couple hundred dollars which was tough since I wasn't quite making money yet.
With Siteground and Bluehost you can only pay yearly and the renewal prices are a ton the following year because it is no longer discounted.
What I love about WPX hosting is you could pay yearly or your could pay monthly, which is way better for majority of people. Also their speeds for websites are top notch.
You want your speed at below 3 seconds to fully load because 50% of people will leave your website if it takes longer.
With Siteground my site speed was 4.8 seconds to fully load and now it's 1 second. That is a huge difference. Which means more traffic and more money!
Also with WPX hosting their customer support is great and there has never been wait time for me. They did awesome with my site migration for my other website and they helped me get this site up and running.
Usually if I have any technical questions and I cant figure it out they help me figure those things out.
Also with their beginner plan you can have up to five websites and with Siteground you have to pay more if you want more websites.
To use WPX hosting you can go to their website and follow the steps below.
Step 1:
Click get started under the business section. For most people business is more than enough to get started. You could pay yearly or monthly, but I highly suggest monthly because I find it easier to pay monthly when you haven't started making money blogging yet.
It's easier to fork out a little bit of money each month rather than have a huge upfront cost at the beginning.
If you do choose monthly you can use my coupon code (With Love 50%) for 50% off your first month.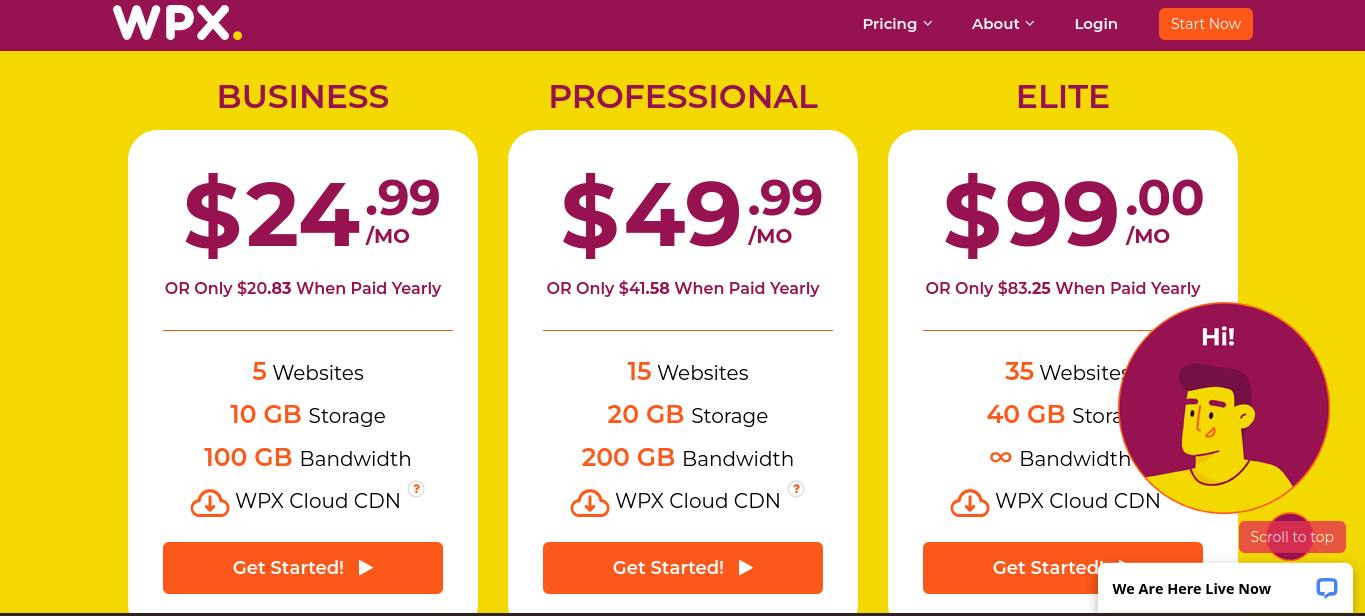 Step 2:
Click where you want your hosting, the US, UK, or Australia.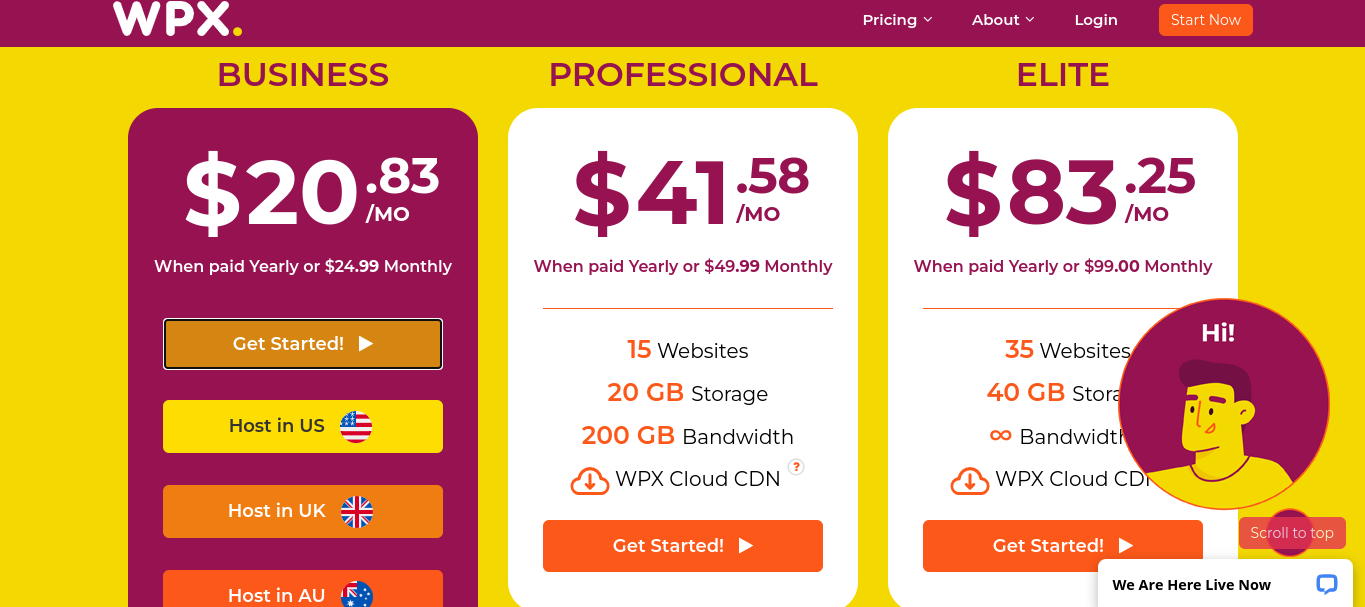 Step 3:
Click "I need a new domain and hosting", unless you already own your domain than you can click on hosting only.
Add the domain and click continue. They will tell you if its already taken or not. You may need to play around with the name or the extension. Try to stick with .com, but you can use .net or .org if you are really set on the name.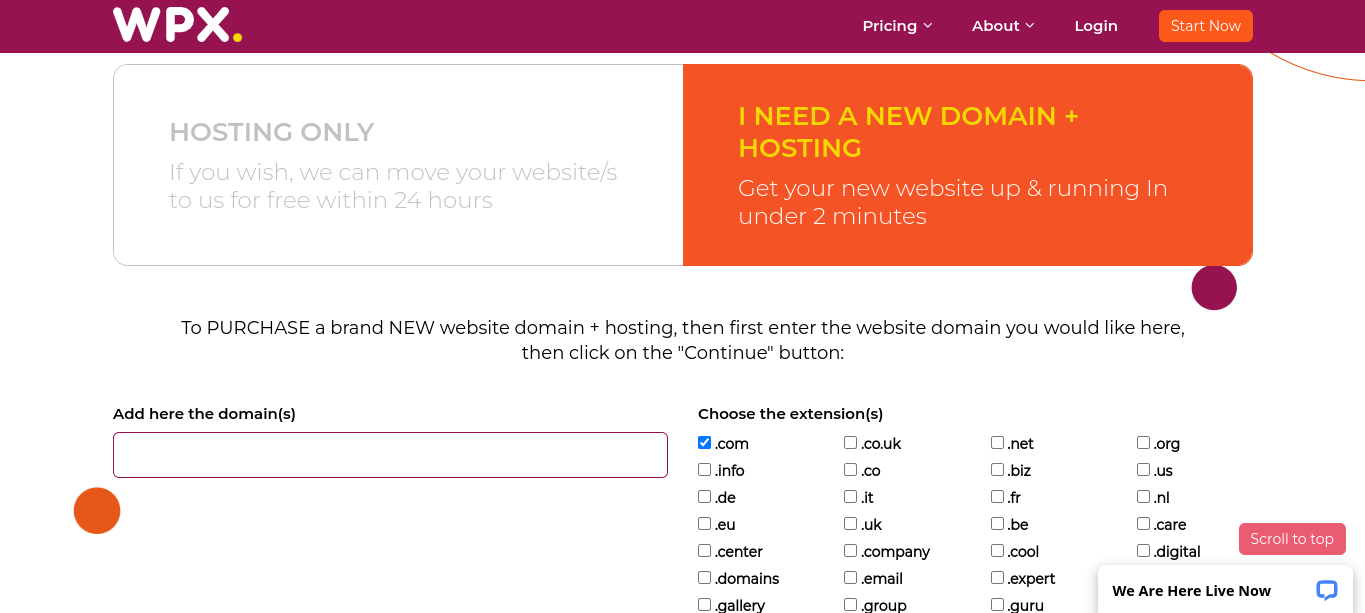 Step 4:
Click "Order now" when you have found the domain name that you would like.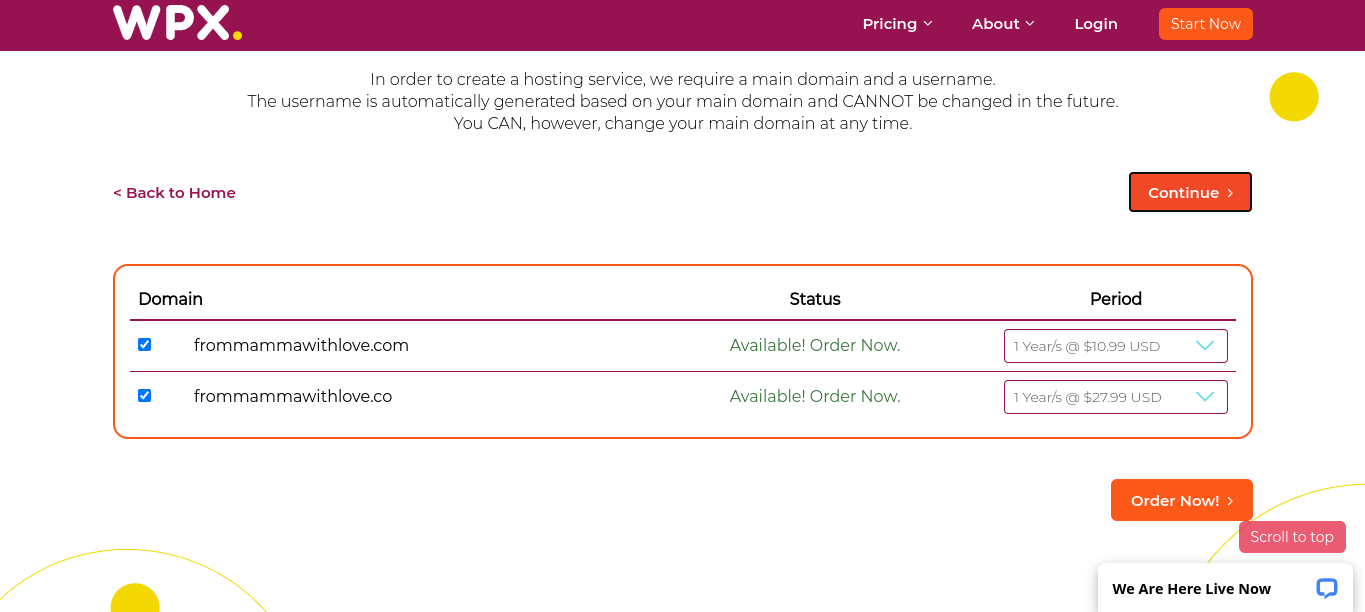 Step 5:
On this step you can leave all of the preselected options the same.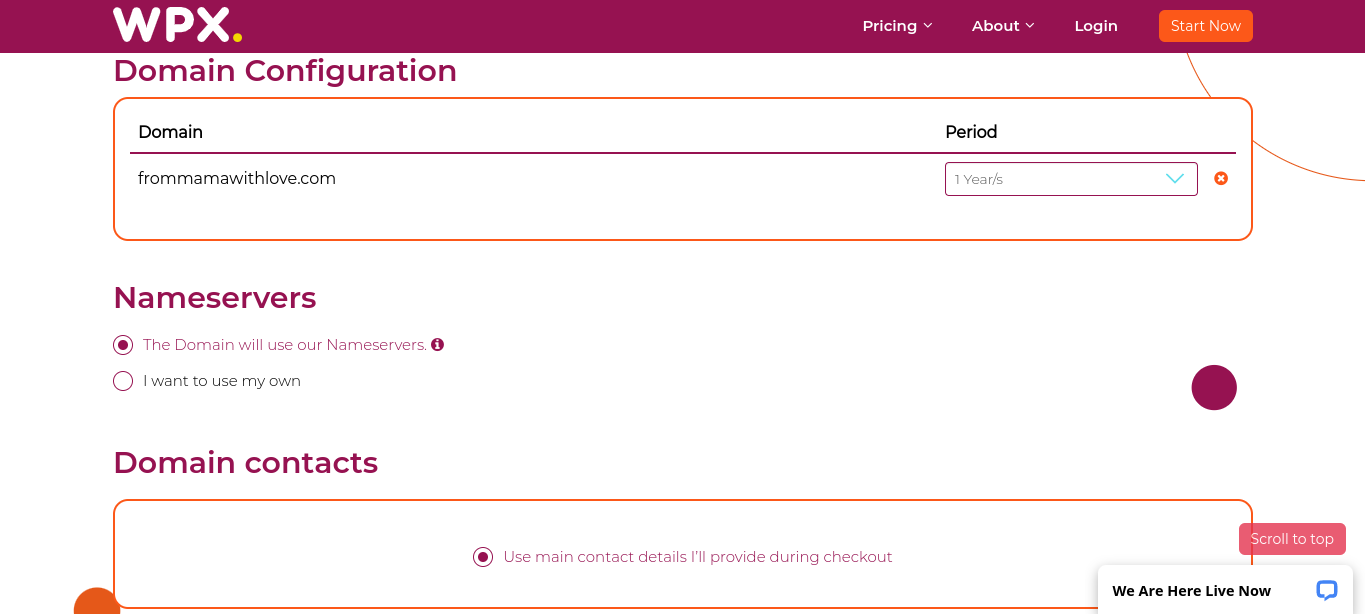 Step 6:
Choose your billing cycle. With monthly use the code (With Love 50%) for 50% off your first month. Then click continue.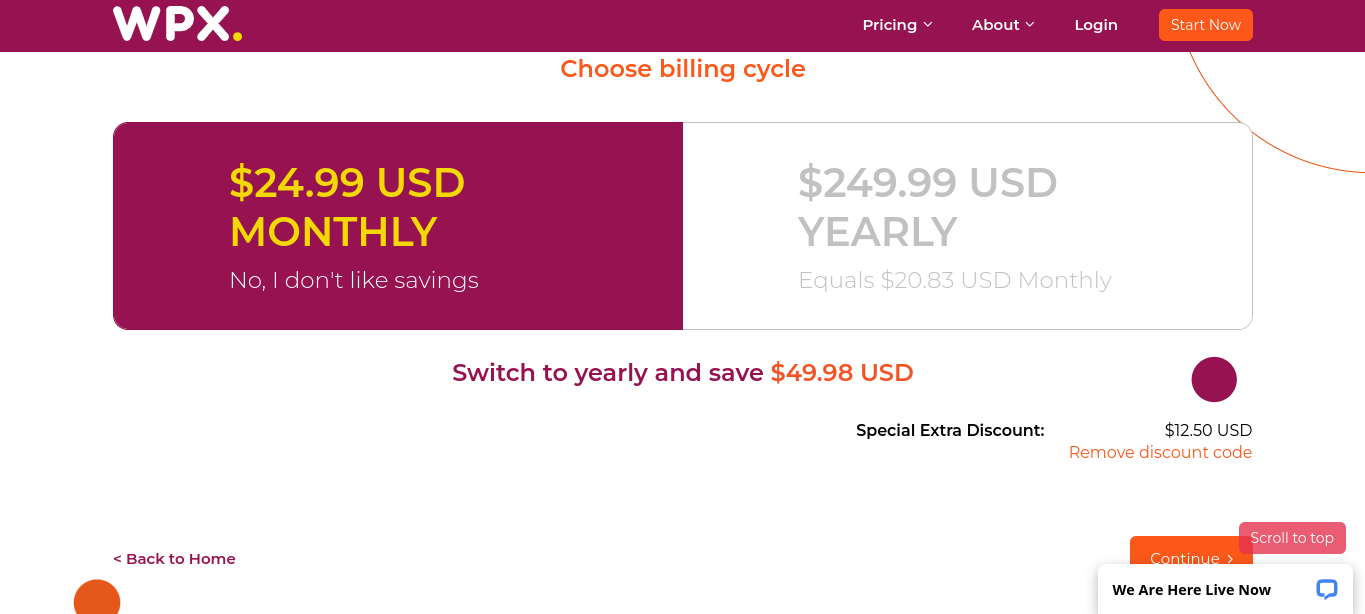 Step 7:
This step will be where you put in your payment and contact info. You could use paypal, a credit or debit card.
You will also set up your login info and then select checkout.
If you need absolutely any help throughout the process there is someone that you can chat with on the bottom right chat box.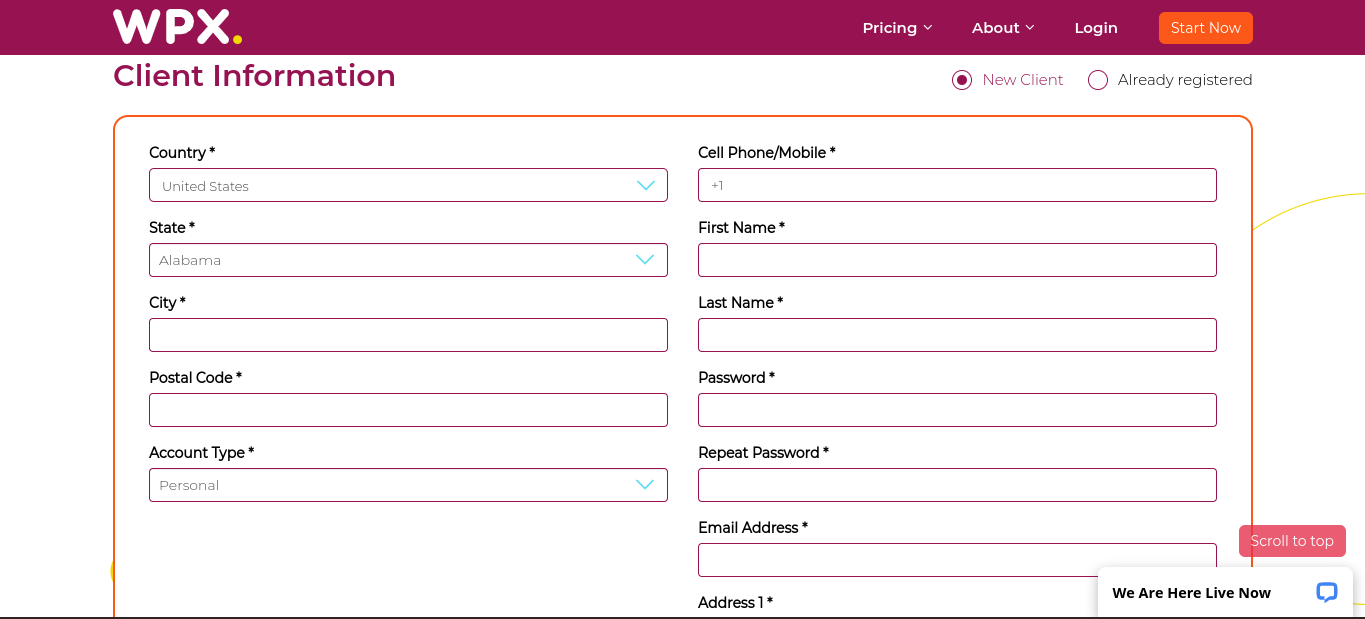 Step 8:
Login to your account and go to "My services" and click on WordPress hosting.
Then you would install wordpress on your domain.
Click on "My Services" and select wordpress hosting. Then click on your business url under product/service.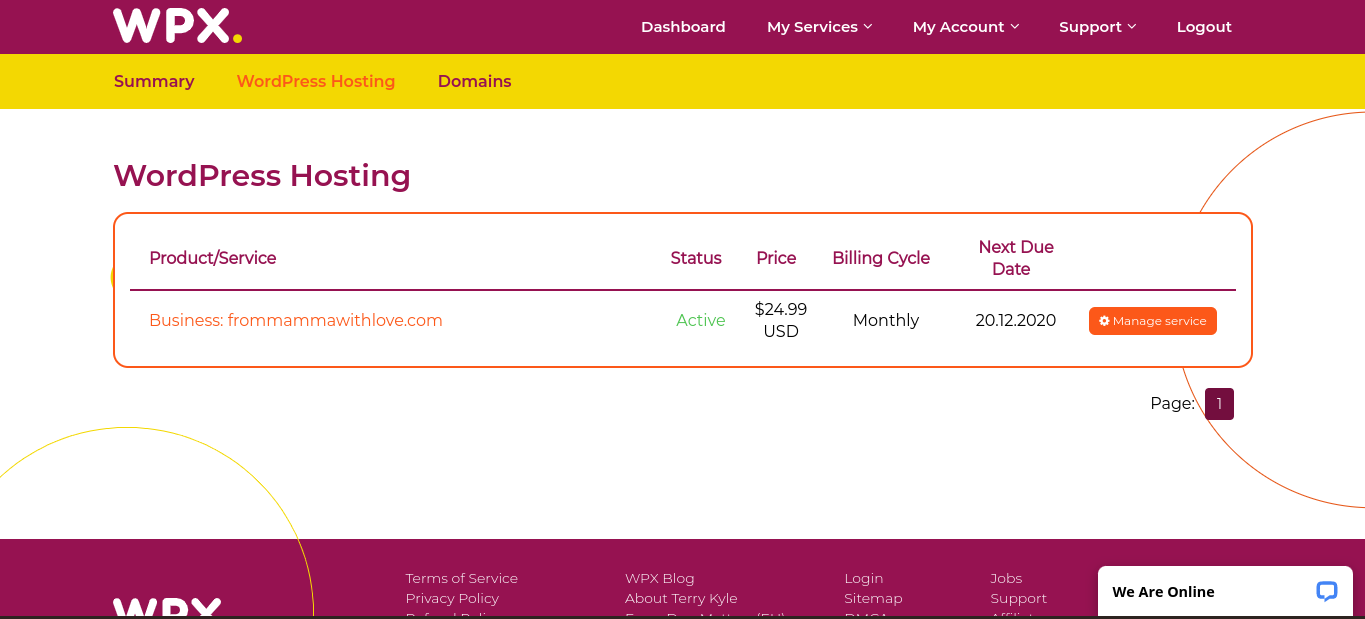 Click on manage websites on the left hand side.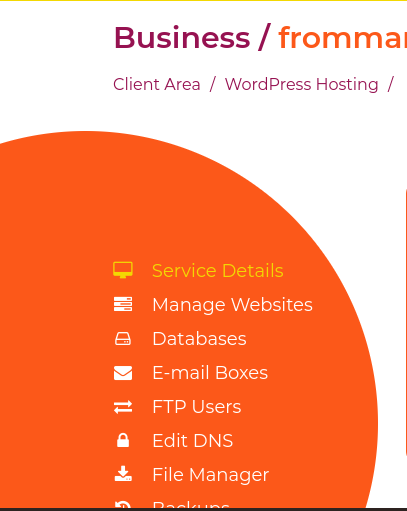 Click the bright blue button that says "install wordpress"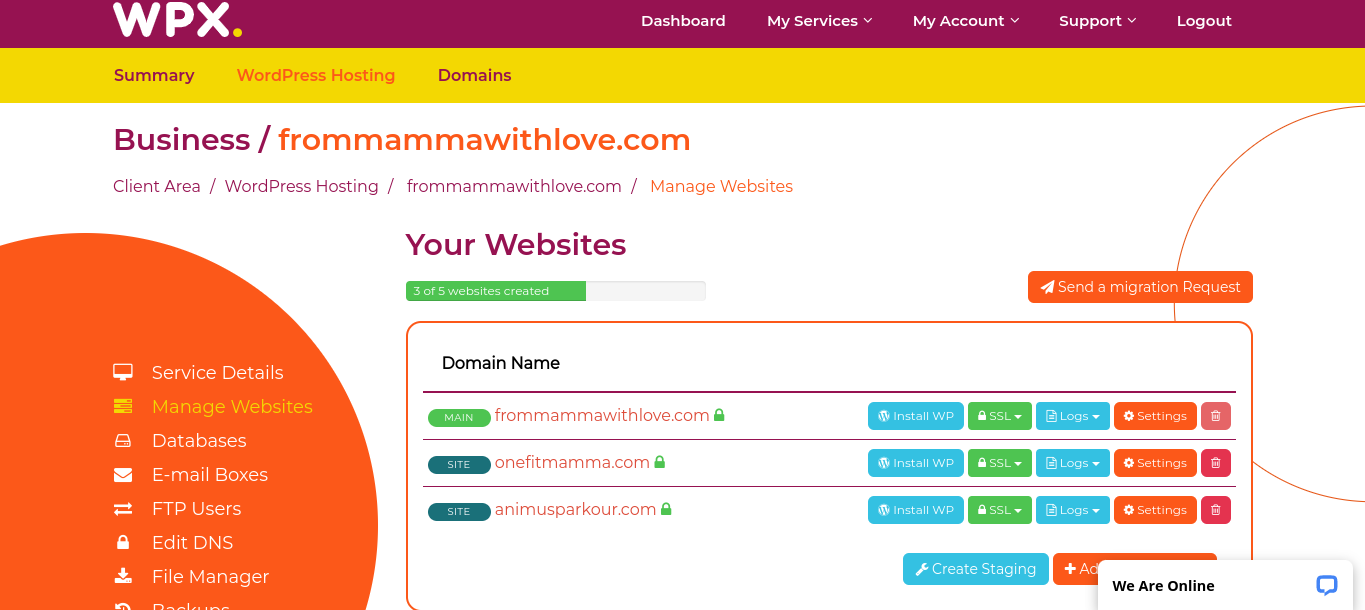 Click "install wordpress on website"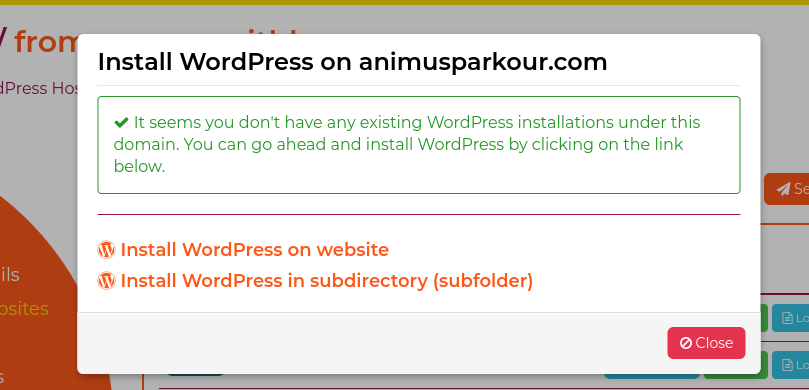 This is where you will create your username and password to login into your admin portal on wordpress. Then click "deploy wordpress" and it will have a popup that says success and shows your your username and password.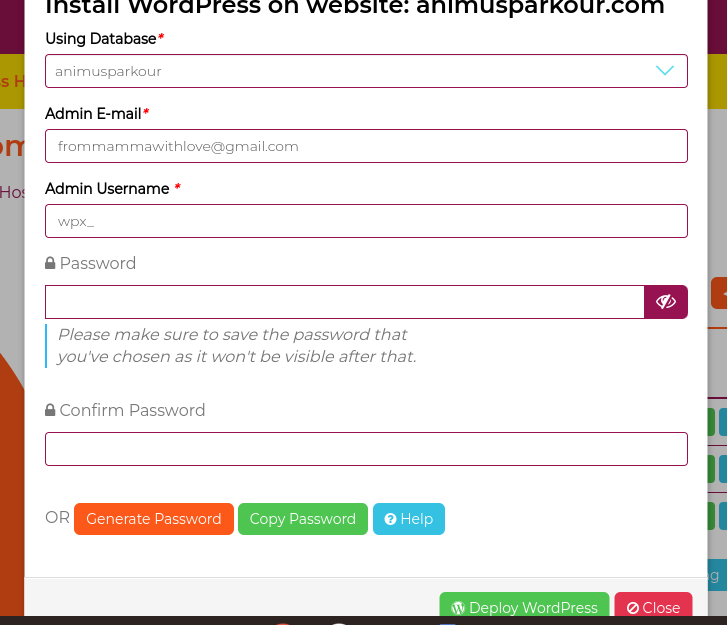 Design Your Blog
Now this could be a fun part or one that makes you want to rip your hair out!
Luckily there are a ton of videos out there to help you if you are visual learning person. So if you are trying to go for a specific look go to Youtube and I'm sure you will find something to help you.
I will just show you the basics below.
You will want to start out by going to your wordpress admin page which would be yourdomain.com/wp-admin
After that you will want to login with the login info you created on WPX hosting when you installed wordpress on your site.
To design your blog you will want to select a theme. Make sure that your theme is fast because you want good user experience.
The fastest and most lightweight themes are:
Astra
Generate Press
Ocean WP
Neve
Zakra
Writee
Arke
Bloggo
Primer
Twenty Nineteen
I personally use Astra because it's lightweight and free, most of these themes are free with paid upgrades if you want them.
You would click on appearance on the sidebar and select themes.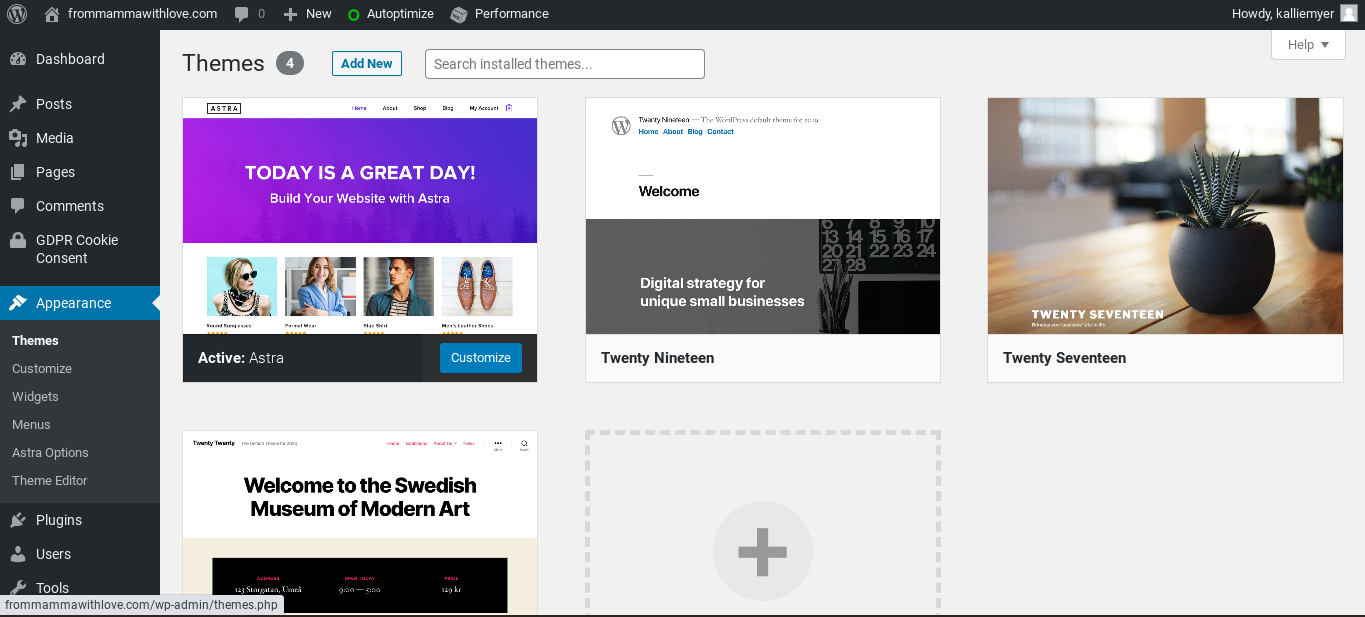 You would click add new on the top and it will bring you to a bunch of different themes. You could either type in a theme or just scroll through to see which one you like.
Again remember to keep it lightweight and fresh because user experience is really essential. Most people don't care if your blog is "super pretty" they mainly care that you answer their question and that your site is loading quickly.
Once you find one that you like you need to install it and then activate the theme.
After the theme is activated you can click the blue button that says customize. In the customization section you will be able to change colors, layouts, your logo, and much more.
Here is a great youtube video that you can use and follow along with to edit your theme:
Write Your First Blog Post
Now with your blog if you are wanting to make money from it you will want to write about things people actually want to read.
If you need help coming up with blog post ideas I have a great in depth post about that, but for this post it will be pretty surface level because there is a lot that goes into writing blog posts that people actually want to read.
One of the biggest mistakes that new bloggers make is not writing blog posts that will solve someone's problem. You came to this post because it will help you start a blog as a beginner. I hopefully am solving a problem that you have.
If you are solving peoples problems they will want to read your other posts and may actually follow what you write because you have helped them in some way.
So before you start writing brainstorm what people actually need answers to in your niche.
After you have come up with a blog post idea you will begin writing it.
I know there are people out there who are better at explaining things than me so when in doubt use youtube! I did that for you, below is a video that Cathrin made to help you write a blog post.
Now pro tip, before you publish any posts you should change the way your url is set up. The default for wordpress is to do date then post name. For search engine optimization you should just do the post name or edit it the url to have your keyword in it.
Usually your post name will have the keyword you are trying to rank for, so having that up first after your domain will help you rank better with google or other search engines.
To change your permalink (the words that are listed after your domain) you need to go to your settings in the wordpress dashboard.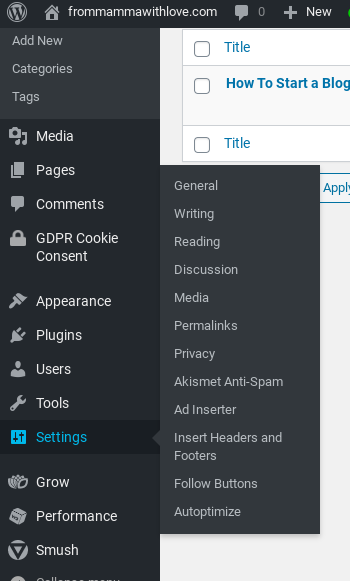 Then you will click permalinks and change your settings to the post name.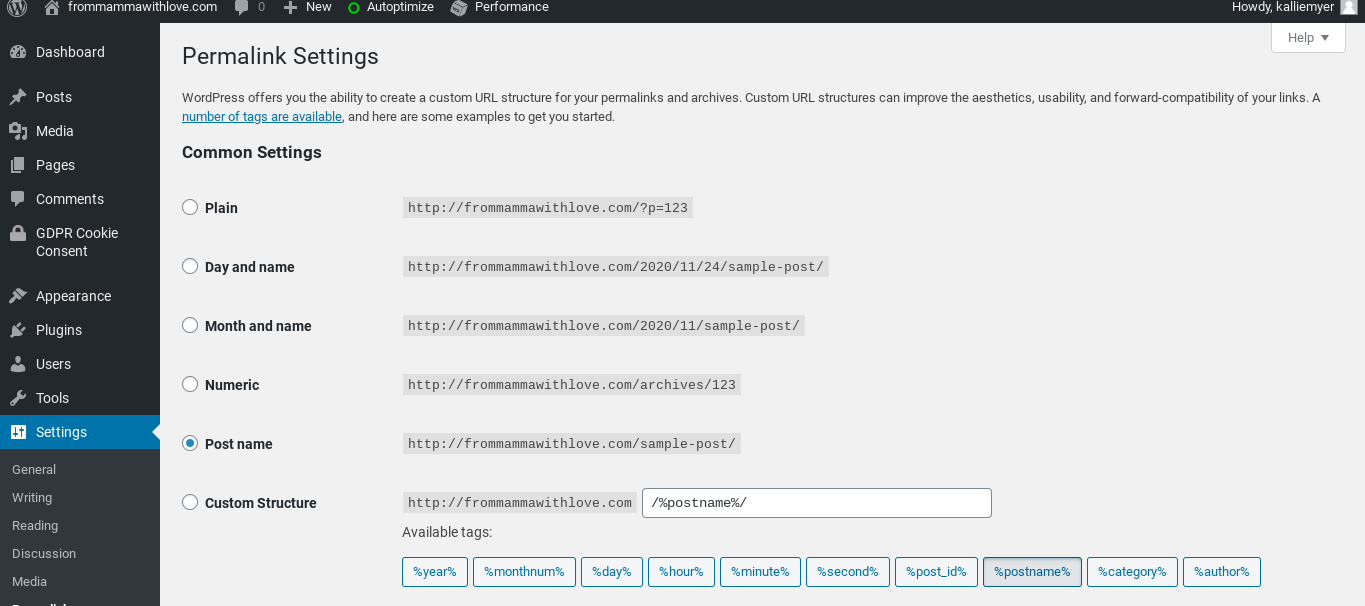 Then make sure that you save your settings by clicking the save settings button on the bottom of the page.
This was something I regret not doing right away so later on I switched it over, but I also had to set up redirects for each of my posts. Which took a lot of time and research so don't make my same mistakes.
Promote Your Blog
Now you can't just write a blog post and expect thousands of people to pop up on your new post once you hit publish. It doesn't work that way.
You need to promote it on some sort of platform. Some bloggers use Pinterest, Instagram, Facebook, email lists and they also utilize seo when they type up a blog post. Search engine optimization is the long term game.
Pinterest is the easiest platform to start promoting your blog and I love using that along with SEO. It will get you quick traffic vs seo which is more of the long haul.
I have a good in depth guide on how to utilize pinterest for you blog because there is a lot that goes into it.
I don't really know how to use Instagram or Facebook for promoting your blog so I won't be teaching you that.
With email lists you can always send out when you have published a new blog post so they can read it.
A great way to grow your email list is having people opt in for freebies such as checklists, printables, templates, ebooks, ect.
My favorite email platform to use is Mailerlite. Some people like convertkit or mailchimp. It's whatever your fancy is.
Make Money Blogging
There are several different ways to make money blogging such as:
Ads
Affiliate Marketing
Selling courses or products
Write sponsored posts
Offer coaching services
The most common ways people make money is ads, affiliate marketing and selling their own courses/products.
Now some bloggers will say that you don't need a ton of traffic to make a decent amount of money, but it doesn't hurt to have a lot of traffic.
With ads you get paid a certain amount per 1000 views. Depending on your blog and what ad network you are with this could vary a ton.
Leading up to applying for Mediavine I was with Media.net and I made $10 measly dollars and couldn't cash out till I made 100. This was even getting 25,000 sessions a month.
Right once I hit 25,000 sessions I applied to Mediavine which is a premium ad network and with 25,000 sessions this was bumped up to $600.
This shows just how much of a difference an ad network can make. Now Mediavine requires 50,000 sessions in a 30 day period so that may take a while for most people to reach that point.
But it is the best ad network in my opinion. They have a facebook group and give you great advice on growing your blog and making more money. You can join the facebook group after you have been accepted to the network.
Ezoic and Monumetric are great ad networks to apply to till you can reach the threshold of Mediavine or AdThrive. Don't go for Google Adsense because you make pennies and it slows down your website a ton, which isn't good for user experience.
I see a ton of new bloggers go for google adsense and really in my opinion it's not a good choice.
With Affiliate marketing there are a ton of different ways to do this. Amazon Associates used to be a great tool to use because everyone orders from amazon and if someone clicks on your link and whatever they purchase from their cart you get a percentage off of it.
Now Amazon Associates lowered their commission percentage and screwed everyone over. You used to make about 8-10% commission which isn't bad, but now its 1-3% which is awful for all the work you do putting the links in your posts.
My favorite affiliate programs to use are individual ones. With my other blog and this blog I work with a couple of bloggers and promote their programs. Most of the time other bloggers will have an affiliate program for their products and the commision rates range from about 30-40% which is a huge difference!
Your time is worth money so find programs or products that you love and could sell confidently on your blog. The most important thing is to be authentic when you are using sharing your experience with your readers.
If you are wondering if a program or product has an affiliate program you could research it in google. Type product + affiliate program in the google search bar and it will show you if they have one.
A lot of other bloggers will use:
Share A Sale
CJ Affiliates
Shopify
Ebay
Rakuten
I personally work with other bloggers, but you choose what works for you because that may not work in every niche.
I hope that this blog guide for beginners really helped y'all and if you have any questions feel free to contact me at frommammawithlove@gmail.com or comment below.