30 day challenges are a great way to get into a habit of something.
You will love this 30 day booty challenge to lift and tone your butt.
Who doesn't want a butt that is a little more plumped and lifted. I know after I had my baby my butt was a little less plump than it usually was.
It's probably because I worked out less at the end of my pregnancy, but I wanted to plump it back up after I had my son.
And plump it back up I did! Doing each of these moves helped me so much and I know they will help you too.
If you want to work your bum a little harder you can add weights or bands to give you a bigger challenge.
You will want to do each set every day about 1-3 times depending on your level of fitness.
I hope you enjoy this 30 day booty challenge and that it will give you a little lift in your life!
Related Posts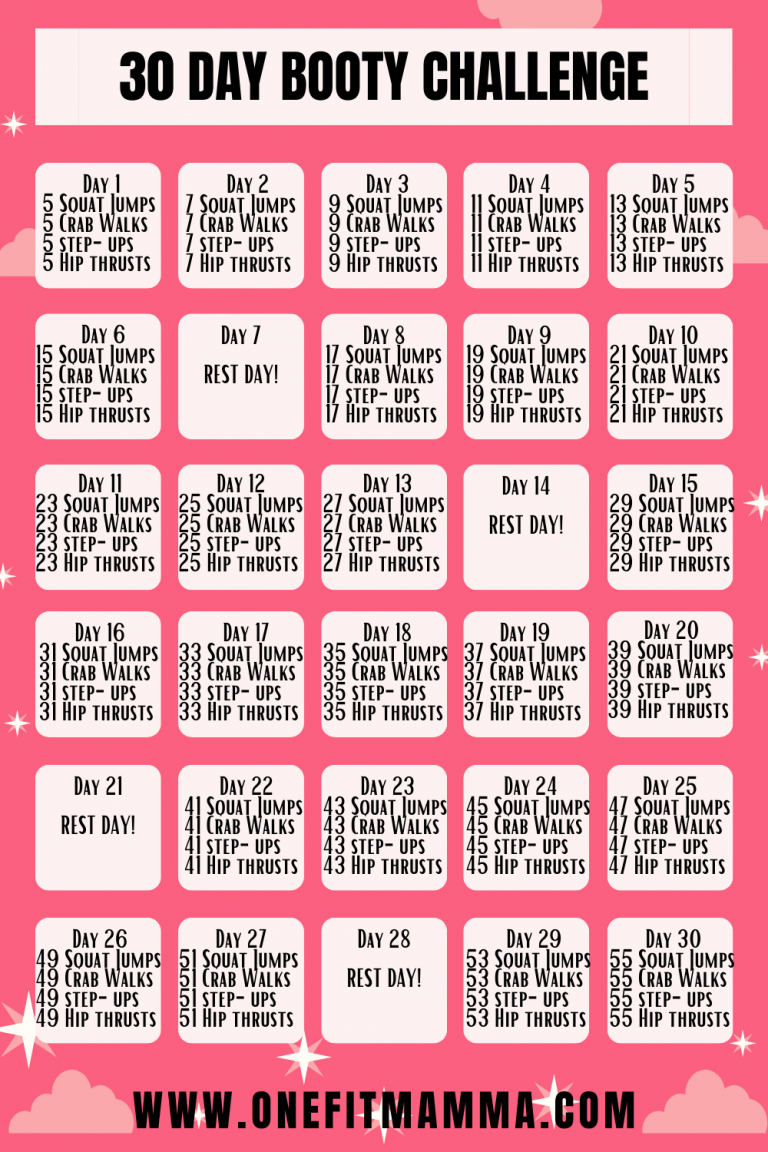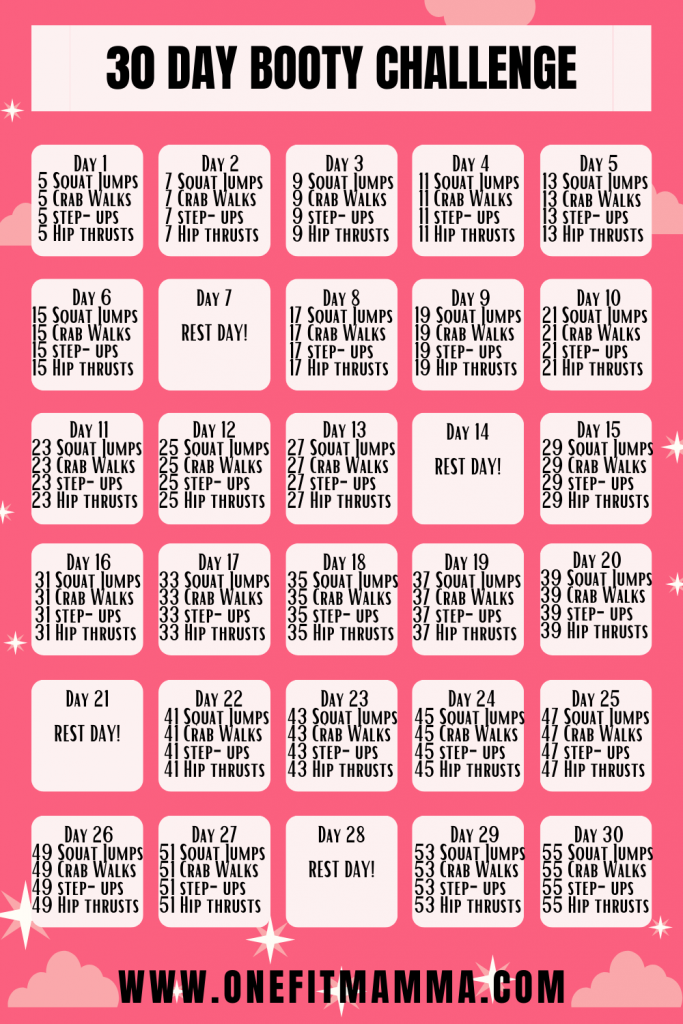 30 Day Booty Challenge
Day 1
Squat Jumps x5
Crab Walks x5
Step-ups x5
Hip thrusts x5
Day 2
Squat Jumps x7
Crab Walks x7
Step-ups x7
Hip thrusts x7
Day 3
Squat Jumps x9
Crab Walks x9
Step-ups x9
Hip thrusts x9
Day 4
Squat Jumps x11
Crab Walks x11
Step-ups x11
Hip thrusts x11
Day 5
Squat Jumps x13
Crab Walks x13
Step-ups x13
Hip thrusts x13
Day 6
Squat Jumps x15
Crab Walks x15
Step-ups x15
Hip thrusts x15
Day 7
Rest Day
Day 8
Squat Jumps x17
Crab Walks x17
Step-ups x17
Hip thrusts x17
Day 9
Squat Jumps x19
Crab Walks x19
Step-ups x19
Hip thrusts x19
Day 10
Squat Jumps x21
Crab Walks x21
Step-ups x21
Hip thrusts x21
Day 11
Squat Jumps x23
Crab Walks x23
Step-ups x23
Hip thrusts x23
Day 12
Squat Jumps x25
Crab Walks x25
Step-ups x25
Hip thrusts x25
Day 13
Squat Jumps x27
Crab Walks x27
Step-ups x27
Hip thrusts x27
Day 14
Rest Day
Day 15
Squat Jumps x29
Crab Walks x29
Step-ups x29
Hip thrusts x29
Day 16
Squat Jumps x31
Crab Walks x31
Step-ups x31
Hip thrusts x31
Day 17
Squat Jumps x33
Crab Walks x33
Step-ups x33
Hip thrusts x33
Day 18
Squat Jumps x35
Crab Walks x35
Step-ups x35
Hip thrusts x35
Day 19
Squat Jumps x37
Crab Walks x37
Step-ups x37
Hip thrusts x37
Day 20
Squat Jumps x39
Crab Walks x39
Step-ups x39
Hip thrusts x39
Day 21
Rest Day
Day 22
Squat Jumps x41
Crab Walks x41
Step-ups x41
Hip thrusts x41
Day 23
Squat Jumps x43
Crab Walks x43
Step-ups x43
Hip thrusts x43
Day 24
Squat Jumps x45
Crab Walks x45
Step-ups x45
Hip thrusts x45
Day 25
Squat Jumps x47
Crab Walks x47
Step-ups x47
Hip thrusts x47
Day 26
Squat Jumps x49
Crab Walks x49
Step-ups x49
Hip thrusts x49
Day 27
Squat Jumps x51
Crab Walks x51
Step-ups x51
Hip thrusts x51
Day 28
Rest Day
Day 29
Squat Jumps x53
Crab Walks x53
Step-ups x53
Hip thrusts x53
Day 30
Squat Jumps x55
Crab Walks x55
Step-ups x55
Hip thrusts x55